The final whistle has blown, the heat of battle has just abated and the Bundesliga trainer is quickly thrust in front of a microphone to give his take on the action.
Whether his side have won, lost or drawn, whether a controversial incident is still seething inside, he gives his reaction and we bring you the best of the Bundesliga trainer soundbites.
Eintracht Frankfurt 7-1 Fortuna Düsseldorf
Adi Hütter: "It was an extraordinary win today and one we fully deserved. Our first goal opened the floodgates and after that there was no stopping us. We were dominant and showed determination. I got the feeling at half-time that the players were in no mood to take their foot off the pedal. For Luka Jovic to score five goals in a game before turning 21 is remarkable – he was the man of the match!
"It was an extraordinary result, but I heard the lads were modest in their post-match interviews. We need to keep going in that vein. We try to work as a team but still gave the ball away too easily at times. We need to work on that."
Friedhelm Funkel: "It is not a nice or pleasant situation. We trained very well during the international break, but I'm terribly disappointed with our performance. You just cannot play like that. It was an inexcusable performance- I don't recognise my team. I will need to have a serious talk with the team."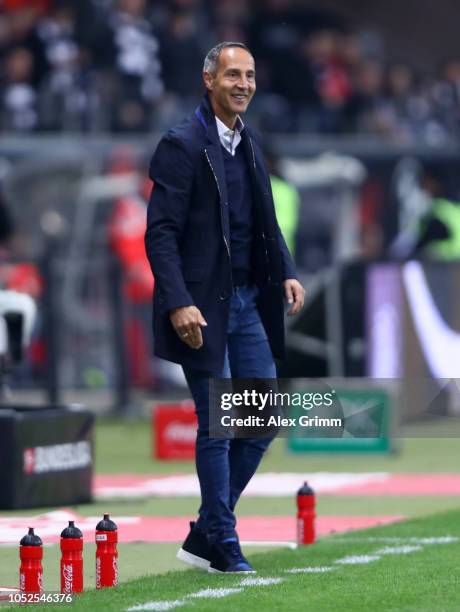 VfL Wolfsburg 1-3 Bayern Munich
Bruno Labbadia: "Bayern deserved to win. In the first half we wanted to be bolder when playing out from the back and be better in our positioning. However, we were a few percentage points off our game today. It's frustrating that after we started to fight back we weren't savvy enough in controlling the match.
"After Wout's goal we should have opened Bayern up more because we could have taken at least a point here. But there's no doubting that Bayern thoroughly deserved to win."
Niko Kovac: "There was a lot of pressure on my team before this match. My players put in a committed and, above all, courageous performance and the victory was deserved. Wolfsburg had more possession after we went down to ten men and they pulled a goal back, but we found the right answer with James' goal."
VfB Stuttgart 0-4 Borussia Dortmund
Markus Weinzierl: "The way we played in the first-half, particularly in the opening phase, makes it very difficult to act. In the third minute we conceded the 0-1, because we were caught out in attempting to switch the play. That cost us our entire plan. In the 23rd minute, we were caught on the counter-attack again and, shortly after, we conceded a third due to an individual error – something like that just can't be allowed to happen to us.
"The second-half was better than the first and it was clear for all to see that the team felt more comfortable operating in a 3-5-2 set-up. On the whole, it was very disappointing. We need to learn from this game and continue to work diligently."
Lucien Favre: "We started very well, the second half was good, but also not so good because the opponent played well. The 3-5-2 gave us some problems. We were prepared for that, but it was still difficult to combat. If they score a goal, you just don't know what will happen."
Nürnberg 1-3 Hoffenheim
Michael Köllner: "We had a very good first half with a very good presence and got into a few dangerous positions in front of goal. We however used a lot of energy and the first 52 minutes speak for themselves. In the second half we couldn't take up the game and Hoffenheim showed their class. We couldn't close the space and we deservedly lost."
Julian Nagelsmann: "We had a complicated first 20 minutes, we were inferior emotionally and rightly went behind. But then we caught ourselves and were quite dominant in the first half. In the second half we kept up the pressure very high and didn't have the problems with counters.
"We had had a good mentality in the second half and I am very satisfied. Victories are always important, but perhaps this one is even more important."
Augsburg 0-0 RB Leipzig
Manuel Baum: "There were a lot of fouls given today, as if every challenge was deemed a foul. This prevented any rhythm to flow during the match. I saw a superb performance defensively from the team today as we barely allowed Leipzig to get a chance in front of goal. We lost the ball too frequently in attack but I remain positive and am pleased that we kept a clean sheet."
Ralf Rangnick: "There were not many chances in front of goal and this is a shame for the supporters who came to today's match. As a coach it is good to see a good defensive display as you barely allow anything through and this is important.
We lacked the precision necessary in front of goal but we will take a point. We overcame a couple of surprising moments very well in today's match."
Bayer Leverkusen 2-2 Hannover
Heiko Herrlich: "We wanted to win today. We didn't manage it and therefore we're not happy. At the moment we are lacking the ease, the self-confidence and the luck in the game. We have to that out again."
Andre Breitenreiter: "We are sitting in the dressing room after a 2-2 draw at Leverkusen and are disappointed. Although we are happy with the point, there was more in the game for us."
Schalke 0-2 Werder Bremen
Domenico Tedesco: "Congratulations to Werder, they deserved to win. They were efficient and clinical, something which we weren't today. We wanted to break up the play in the first half and be strong at the back, which I felt we did well for the first 25 minutes. We kept them well away from our goal. Maximilian Eggestein took his first goal very well and then we were uncertain of our game again.
"We switched things up in the second half, with our plan being to win more second balls with some more direct play. Amine Harit immediately had a chance from the restart, and we had a number of good chances after this too. We should really have put at least one away. Ultimately they deservedly won."
Florian Kohfeldt: "We managed to control the game, which is very impressive considering how difficult an away game this was. We managed to score two goals at the right moments. Schalke also had chances to equalise, but ultimately I'm pleased with my team's performance."
Hertha Berlin 1-1 Freiburg 
Pal Dardai: "After the first half we should have had a bigger lead. In the second half we conceded after a deflected shot and that's annoying. We missed the final pass, but we accept the result."
Christian Streich: "It was a difficult game in which we had to work our way through. In the second half we then had our chances, but didn't make the right decisions. We are satisfied with the point."
Borussia Mönchengladbach 4-0 Mainz 
Dieter Hecking: "Mainz had only conceded four goals in their first seven games this season so we knew that they are well organised. We were patient and were able to go 1-0 in front. We were better with the ball and closed down their space well in the beginning of the second half.
"Then you could see what the team can do; score three great goals. We are happy that we beat a well organised and strong team. I am very proud of the team."
Sandro Schwarz: "I think that at the start Gladbach started well but five, six minutes in, we found our feet and played well. When we were in control and playing well however, they scored a very nice goal. We still had good possession after their first goal but after 20 minutes after the break, the game was over.
"We lost too many battles and gave the ball away and Gladbach scored the goals. It's very annoying but a deserved defeat."
The following two tabs change content below.
Mathew Burt
A year spent living in Bremen got Mathew hooked on the Bundesliga with regular visits to the Weser Stadion getting in the way of his studies. Back in the UK now, he still keenly follows the Grün-Weißen and German football in general. Follow him on Twitter
@matburt74
.
Latest posts by Mathew Burt (see all)