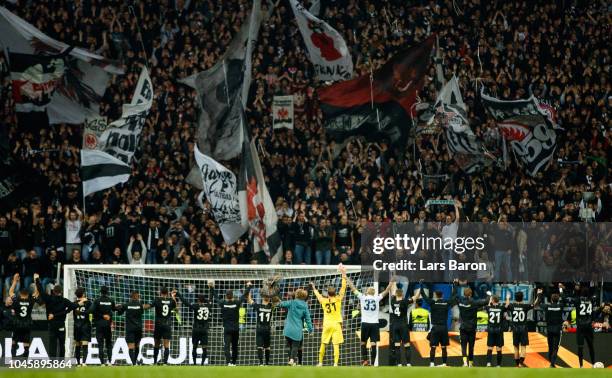 I wonder if the above goal for Hubner has been modified, because what a few weeks it has been for the boys of Frankfurt!  Around a month ago, Eintracht entered a game against Lazio desperately needing three points to keep pace in the Europa League, and sitting near the bottom of the Bundesliga table.  Fresh off a 1-3 thumping at the hands of Borussia Mönchengladbach, Eintracht had been struggling in the early going, and just trying to find anything that worked.  This being their second Europa cup match-up of the season, Die Adler had their work cut out for them.
Lazio entered the game winning 5 out of their last 6, including a four game winning streak.  What has transpired since then is something I don't believe anyone (outside of Adi Hütter) saw coming.  Eintracht has absolutely exploded offensively, with 17 goals in their last four games (including seven against Fortuna Düsseldorf).  It's the offense that is now carrying this team, and it all started against SS Lazio.
SS Lazio
In an early match-up of the two Group H leaders, SS Lazio is an excellent team with tremendous players.  Eintracht came out looking for the knockout from the very start. Danny De Costa's 4′ set piece goal opened the door for Die Adler, and when Riza Dirmisi left the game in the 18th minute with an injury, Eintracht cranked up the intensity.  Defending the whole field, and striking quickly, Eintracht continued to push Lazio to the limit.
Marco Parolo's goal (23′) brought the Biancocelesti level, but only minutes later Mijat Gacinovic found an open Filip Kostic in front of the net (28′) and Eintracht began to completely overwhelm the visitors.  Kostic's goal began with another gritty play by Sebastian Haller, who made a sliding attempt to control a 50/50 ball in the box and played it to Gacinovic.
It was an aggressive, hard fought game in front of a raucous home crowd, and things reached boiling point for Lazio.  Dušan Basta picked up his first yellow against after he had been badly beaten,  and when he picked up his second (45'+3) with a play equivalent to the NFL's horse-collar rule, the tide had essentially turned. Luka Jovic opened half number two with a beautiful left footed chip shot over Silvo Proto, a second red followed for Lazio (Joaquin Correa – 58′), and Eintracht completely took over the game.
Instead of sitting back and defending, Eintracht went straight after Lazio.  Attacking in waves, Eintracht consistently poured it on the Biancocelesti and found another goal. Danny De Costa book-ended the match with his second goal, a right footed finish off a short cross from Taleb Tawatha.  It was as convincing a win as Eintracht could have hoped for.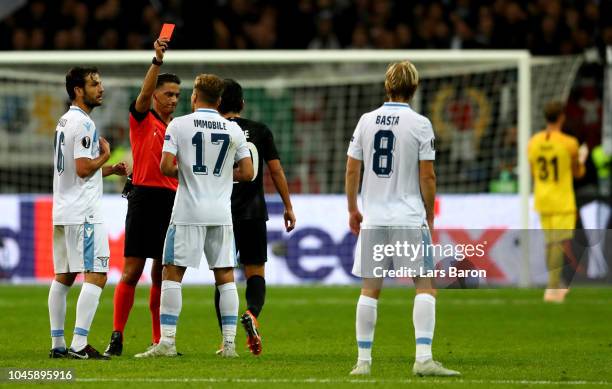 TSG Hoffenheim
For all the wonderful attacking soccer the Eagles have played over the last month, this game turned back the clock a bit.  The victory over Hoffenheim was based on guts, grit, will power, and a little of luck.  In what seems to be a common theme, Hoffenheim opened the game being extremely physical against the Eagles top three as Rebic, Haller, and Kostic all were seen picking themselves up off the turf for most of the first half. The game was an absolute foul fest, and with 35 total fouls (Eintracht 19:16 Hoffenheim) the tough and physical play was dished out on both sides.
Eintracht refused to back down.  Hoffenheim was on the front foot early, and hit the bar twice including Leonardo Bittencourt's shot that just hit the bottom of the bar and landed two inches on the lucky side of the line for Eintracht. Hoffenheim looked to have the Eagle's attack under control, when Rebic finally managed to break loose and hit an amazing left footer over the poorly positioned Oliver Baumann  (40′) from just outside the upper left corner of the box. An unbelievable one touch finish on a dead spring, it came off a terrible throw in from Hoffenheim and a terrific pass by Luka Jovic.
Just after halftime (46′), Jovic doubled the lead with a terrific blast off a Bauman deflection.  Hoffenheim greatly picked up the aggression and the physical play trying to climb back in, and in the 64th minute Rebic looked like he'd had enough.  Picking up his second yellow, he was sent off after pulling down Nico Shulz.  A man down, Eintracht never left the game in doubt even after Reiss Nelson's 82′ goal.  Despite losing every statistical category, and managing only 6 shots, they still held on for a convincing 2-1 road victory.
Fortuna Düsseldorf
What can be said about the Eintracht's 7-1 victory over Düsseldorf.  Luka Jovic was playing like a man possessed. The team constantly found him in space, and his finishing was laser-like in precision.  His ridiculous flying goal into the top right was as acrobatic a finish as has been seen in the Bundesliga this season, and the cross from Philip Kostic was equally as impressive.  Eintracht took control of this game the second the first half kickoff happened, and even though it took them a while to get the first goal (Haller – Penalty Kick – 20´) it was only a matter of time until the scoreboard showed the difference in class between the two teams.
It's been amazing to see the transformation in Eintracht from a rough, defensive oriented, scrappy team that fights for every inch of the pitch, to a beautiful counter-attacking and quick-hitting squad that finishes as clinically as any team in the Bundesliga.  The Eagles have morphed into a one touch, chance-creating team.  The addition of Kostic to the outside and his ability to put pressure on the defense and find his teammates has been vital for this transition.
Haller has been playing deeper in the midfield, and can go get a ball at any time from the air and relay it to his teammates.  Through their current four game winning streak,  they have outscored their opponents 17-4.  Many of those goals have come off of plays from Haller.  While he only gets credit for 5 assists, he was one play away from many of the goals.
In four games they have equaled their first 12 games tally of a year ago (17).  Their 19 goals through the first 8 league games is already 42% of their output total from a year ago, and well ahead of their 8 goals they had totaled at the same point.  They currently rank tied for second in the league in goals, and tied for the second most goals through the first two games of Europa League (6). Jovic is now tied for first in the league with goals (7) and Haller ranks second in assists (5) and 4th in goals (5).  Every player that has worn the Eintracht black has looked more comfortable in the attack this year, from Rebic to Marc Stendera.
It'll be interesting to see if this scoring pace can continue, or if its only a flash in the pan.  The next few weeks are shaping up nicely for Eintracht on paper and they must keep their foot on the floor.  Next, the Eagles play 1.FC Nūrnberg, followed by VfB Stuttgart in the Bundesliga, then travel to Apollon Limassol in Europa League play. All three matches are very winnable, and a second win against Apollon should see Eintracht through to the knockout rounds.
This isn't time to reevaluate, to readjust, or to tinker and find  solutions.  This is the time to keep the throttle open and charge ahead mit Vollgas.
The following two tabs change content below.
Brian Gilchriest
I am a freelance writer for the Bundesliga Fanatic, covering mostly Eintracht Frankfurt. I fell in love with the Bundesliga about the same time I fell in love with my wife, who is from Wiesbaden, De. I also write BriansSportsBlog, covering mostly American Soccer, as well as my thoughts on other sports.
Latest posts by Brian Gilchriest (see all)