After the game against Borussia Dortmund, Eintracht Frankfurt coach Adi Hütter stated: "We always think in solutions."  And after a less than ideal start to the new campaign, Hütter and Co. must have been working overtime. Back in the offseason, the Eagles often looked overmatched, unorganized, and unsure of what they were doing.  As disappointing performances started to pile up, so did the injury report.  The injury bug didn't just bite Eintracht, there was an infestation.
The injury report reads as follows:
Ante Rebic (foot)
Carlos Salcedo (foot)
Gonçalo Paciência (meniscus tear)
Timothy Chandler (meniscus tear)
Marco Russ (achilles)
Taleb Tawatha (back)
Chico Geraldes (back)
Frederik Rönnow (knee)
All these players have missed time, and Salcedo, Paciencia, and Chandler will not be back until (at the earliest) after winter break.  Between the injuries and two untimely Jetro Willems suspensions, Hütter has had to be very creative with his lineups and formations.  New faces have made their way in the lineup, and he's bounced between a 4-4-2 and a 3-4-1-2.  Four games in the last ten days saw them compile a 2-1-1 record, and they played extremely well in each of the games.  Eintracht has outplayed  their opponents for 7 of 8 halves, and would be 3-0-1 if it weren't for a very unfortunate handball in the box by Filip Kostic.
Eintracht is showing signs that things are coming together.  The win over Marseille, a well played draw against Leipzig, and a commanding performance against Hannover 96 lead us to believe that Hütter isn't just thinking of solutions, he's finding them.
Dealing with Old Demons
Frankfurt ranked last in the league in conceding goals after the 75th minute (17) last season. The trend has continued this season.  Bremen (96th minute) and Dortmund (72nd minute; 88th minute), and Mönchengladbach have all taken advantage of the defense late in games.
Eintracht's attack ranks 17th in Possession %, 18th in Pass % and 18th in Shots/Game.  While their game has been a quick hitting counterattack style, they must improve in these areas to be any kind of contender down the road.
The Eagles also rank 17th in Shots off Turnovers (3.2) and 17th in Fouls Drawn (9.3).
Solutions Have Been Found
Let's start up front. After Sebastian Haller's 3 goals in  the first 3 games, Hütter has somewhat switched his role.  Beginning with the Leipzig match, Haller has been played deeper, which means he's making more plays for his teammates.  While everything he's doing isn't showing up on the stat sheets, he's having a big impact; for example, he's winning balls that lead to chances.  He simply dominated Hannover 96 in the air, and made key plays in 3 of the 4 goals. While 2 assists, and 4 aerial duels won are nice, these simple count stats don't accurately show the impact he had on the game.
This going-under-the-radar effect has been the case of late for Haller, and might continue to be a defining theme this season for him.  Eintracht's only goal against Mönchengladbach came off an aerial header from Haller, and their goal against Leipzig came after a good run to set himself up for a shot that was deflected. Even though he has seen a decrease in chances each week, (2 against Leipzig, 1 against 'Gladbach, and 0 against Hannover), he has found ways to be productive and use his talents in ways to help the team.  While he looks for a way to get chances, he's doing the dirty work the Eagles need.
Next, let's take a look at the bench. Frankfurt's much-maligned 2nd training unit is pitching in.  For example, Simon Falette was big against Marseille, and Marco Fabian has also played well when called upon. Falette played left back for only the 4th and 5th time in his career, and filled in nicely against both Dortmund and Marseille when called upon. He had a big play late that led to Haller setting up Nicolai Mueller for a terrific chance, and he made both the steal and the pass that led to the game winning goal by Jovic. Falette might have done enough to earn his way back into the first team.  While it's doubtful that Hütter digs deep into this group, they produced meaningful minutes in a pinch.
In midfield, Eintracht has seen in uptick in performance. For example, Alan Souza, Gelson Fernandes, and Jonathan De Guzman have all played well in recent matches. While Mijat Gacinovic and Lucas Torro have been constant and steady presences, the other three have all done their job when called upon and are making key plays. Hasebe has been playing well as a central defender and was excellent against Leipzig, and Russ was very solid against Hannover. Jovic has continued his form from last season, scoring two goals in 4 appearances, mostly as a sub. Eintracht is beginning to show off some depth. In all, solid midfield performances for Eintracht.
Finally, in goal returnee and loanee Kevin Trapp has been a bit up and down this season, but overall has performed well enough in goal.  It's his job to keep while Rönnow's knee ailment persists.  And Trapp's been extremely solid and at times spectacular in the past couple weeks. It's curious to see what will happen to the goalie situation when Rönnow returns from his knee ailment. After all, Rönnow looked very good in his only Bundesliga action of the season, posting a clean sheet against Freiburg.  Look for a rotation to form between these two as the season progresses.
Ante Rebic's Return
After the Pokal Final, and his run in the World Cup Run with Croatia this summer, Rebic's return in an Eintracht uniform was much anticipated around Frankfurt this season. After coming back late to training camp, and missing time with a foot injury sustained in the World Cup, the anticipation was growing in the Frankfurt area to see just how he would fit into Adi Hutter's plans.  After not playing in any of the pre-season friendlies, and re-aggravating his foot injury in the SuperCup game against Bayern, many wondered what piece he would play.
His first real action of the season against Leipzig was a bit rough. Coming at 69′ as a substitute his timing and touch looked a bit rusty.  Rebic's play against Monchengladbach much more was more crisp.  His break on the goal set up by Haller was timed perfectly, and in typical Rebic fashion he muscled his way to the goal.  After knocking over a defender and the keeper, the ball ricocheted directly to him for a wide open goal. Rebic was a nightmare for Hannover the entire time he was on the field.  He put pressure on the defense and bullied Hannover defenders for 81 minutes. His goal (45+') showed off his strength, as he knocked over the defender to win the ball and blasted it past the keeper.  The goal he set up for De Guzman was showed off his burst, his stepover, and patience.  It's a pass he's not often to make, and it shows that he may have added a new layer to his already impressive game.  Along with the goal and assist, he also drew 6 fouls and often was tripped up on runs in the final third that could have led to more.  His activity is vital to The Eagles moving up in the table.  The questions on how he would fit in to Hutter's system seem to have been answered: Perfectly.  The job of getting forward and wreaking havoc on the opposition fits very well with his style of play. The Eintracht Ultra's have affectionately named Rebic die Ein-Mann-Bisonherde (The one man Bison Herd), and Hütter is letting him charge and roam free like Bison on the plains.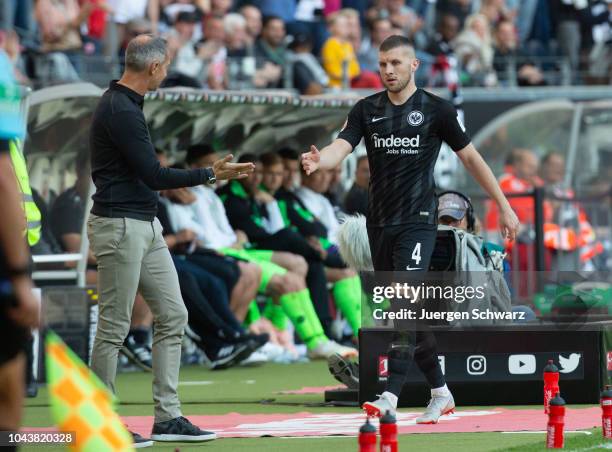 The game against Hannover brought 3 much needed points in the standings.  It also brought much needed success on the field.  While most of the game was sloppy, Eintracht found a way to make key plays at the right times. While they still have much to work on, one can begin to envision the picture that Hütter has for the squad.  He inherited a tough, hard nosed, defensive oriented team.  That theme has continued this year.  Hütter has added some beautiful one touch soccer that we haven't seen in Frankfurt for a while.  As the squad continues to gel, and with Haller, Rebic, and Filip Kostic learning to play together you can only imagine Eintracht continues to show marked improvement. With a challenging week ahead for the boys of Frankfurt, Hütter's "solution" oriented will have to continue to find a way.
Next Up for Eintracht is a Europa League  clash on Thursday vs. Lazio.
The following two tabs change content below.
Brian Gilchriest
I am a freelance writer for the Bundesliga Fanatic, covering mostly Eintracht Frankfurt. I fell in love with the Bundesliga about the same time I fell in love with my wife, who is from Wiesbaden, De. I also write BriansSportsBlog, covering mostly American Soccer, as well as my thoughts on other sports.
Latest posts by Brian Gilchriest (see all)