The eighteen Bundesliga clubs have spent close to €500 million this summer between them in an attempt to improve their squads ahead of the 2018-19 season. Bayern Munich are simply looking to maintain the status quo of their dominance, some are looking to close the gap on the Rekordmeister, while others simply seek to ensure survival.
So just who has had the best transfer window this summer? Which club has splashed the cash the wisest?
In just two words….Borussia Dortmund. Now that's not to say the likes of Schalke, with the ever-shrewd Christian Heidel, or Hoffenheim (or Mainz for that matter) haven't done good business, but in terms of strengthening the squad in the areas needed, while at the same time cutting loose some of the excess wood from the playing roster, Michael Zorc over at BVB has done the best work.
Admittedly the Schwarzgelben have been this summer's biggest spenders by some way with the coffers at the Signal Iduna Park lighter by €75 million, but then as the saying goes: 'you've got to speculate to accumulate'. Following a poor season last year, where they only just qualified for the Champions League, 'speculation' was a must for Dortmund with the club's management quickly realising that the false dawn under Peter Bosz needed to be rectified with another 'fresh start' with Lucien Favre at the helm.
Seven players have been signed and every one of them will be eyeing getting plenty of game time this season as Dortmund look to provide Bayern with a real challenge for their Bundesliga hegemony. So let's work from back to front.
Defence
The biggest layout was the €28 million paid to Mainz to bring in highly promising centre back Abdou Diallo and his pairing with Manuel Akanji at the heart of the BVB back four has the potential to be the solid base required. Not since the Mats Hummels/ Neven Subotic partnership have fans on the Yellow Wall had a centre-back duo they could have absolute faith in.
Frenchman Diallo is 22-years-old, Akanji is 23, and they add not only youth, but athleticism and pace to the defence- something you couldn't associate with either Sokratis or Ömer Toprak last season. Already this season in the opening two Bundesliga outings the pair have looked impressive and there has been none of the car crash defending that sadly became synonymous with swathes of last season (the first 31 seconds against Leipzig aside).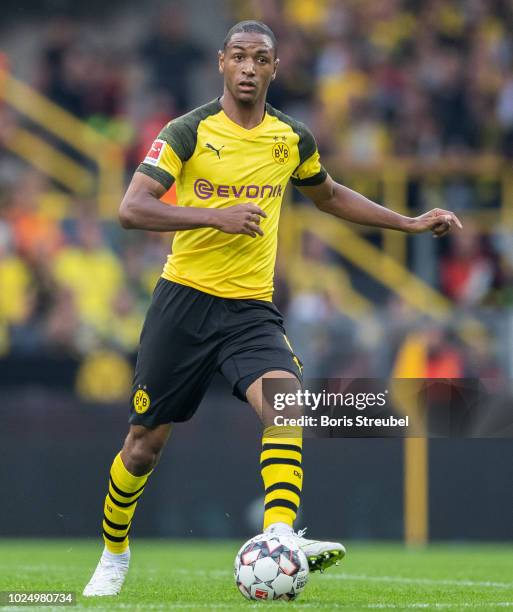 Right back Lukas Piszczek is not getting any younger (or any faster) and he will be looking over his shoulder with some concern at the arrival of Achraf Hakimi on a two-year loan deal from Real Madrid. The Pole has been a shoe-in for BVB for many seasons, but this could be year he has to adapt to a 'job share' with the 19-year-old Moroccan defender.
Hakimi is young (like Diallo and Akanji), but he did make nine La Liga appearances for Real Madrid last season as well as five in the Cup and two in Europe so the talent and ability is certainly there.
Then there is Marwin Hitz, who was picked up from FC Augsburg on a free. Roman Bürki is the number 1, but while he has fantastic saves in him, he is also prone to the odd howler and should he suffer a crisis of form/ confidence, then Hitz will be eager and ready to take over. The presence of Hitz should also spur Bürki on to maintain his concentration.
Midfield
Dortmund were not exactly lacking in the midfield department, but the additions of both Thomas Delaney and Alex Witsel add a different and much-needed quality to the BVB team. The Dortmund side didn't lack in artistry last season, but unlike Bayern with Arturo Vidal, they didn't really possess much steel and Delaney and Witsel will certainly bring that. Both are leaders on the pitch and it is telling that their arrival instantly spelt the end of the line for the likes of Nuri Sahin and Gonzalo Castro.
At Bremen last season Delaney averaged 2.5 tackles per game, 1.3 interceptions, 2.6 fouls, 0.4 blocks, scored 3 goals while providing 4 assists- stats that BVB will appreciate.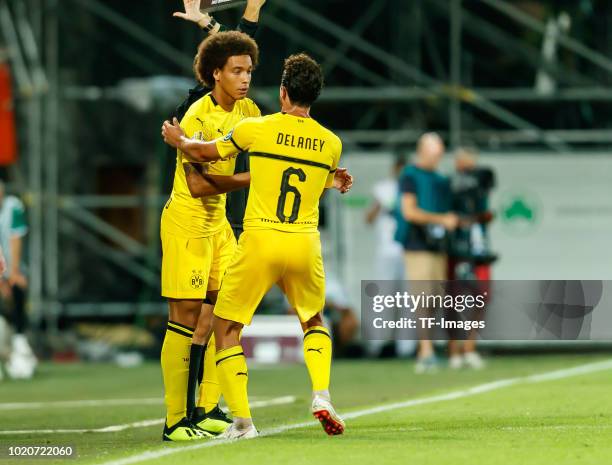 Attack
The big arrival in the forward line is that of Spaniard Paco Alcácer from Barcelona on an initial loan deal. It would have been unwise of Dortmund to go into the season without a recognised striker/ goal-getter and in Alcácer that is what they have brought in.
Yes Marco Reus and Maximilian Philipp will get their share of goals, but they are not players in the classic Lewandowski/ Aubameyang mold — Alcácer is.
Another solid addition is that of wide attacker Marius Wolf, who arrived for a bargain €5 million from Pokal winners Eintracht Frankfurt. He too will add bite to the attack as well as offering versatility and defensive awareness.
Danke und Aufwiedersehen
On the flipside, Zorc and Watzke have managed to recoup almost €50 million in player sales, and more importantly shaved the squad of the excess baggage it was carrying into the new season. With seven players coming in, there were always going to be exits, but the club have done well to shed itself of players, who quite frankly had failed to improve the squad.
Ukrainian Andriy Yarmolenko came in last season as a rather surprise replacement for Ousmane Dembélé and the club have done well to recoup the full €20 million they paid from West Ham.
The Premier League were also happy to receive Sokratis (to solve Arsenal's defensive woes?!), André Schürrle (on a two-year loan and Mikel Merino. Club favourite Nuri Sahin was the final one to leave on transfer deadline day joining Werder Bremen.
So overall Borussia Dortmund have made a €25.1 million loss on their summer transfer dealings, but factor in the profit of €146.1 million from the 2017-18 season (thanks largely to the sale of Ousmane Dembélé and Pierre-Emerick Aubameyang) and the balance sheet looks a lot healthier.
It will take Lucien Favre some time to embed all the newcomers, but on paper Borussia Dortmund have sent out a real signal of intent with their transfer dealings- 'Last season was not good enough- we're going to give you better'.
IN:
Abdou Diallo (Mainz) €28 million
Thomas Delaney (Werder Bremen) €20 million
Alex Witsel (TJ Quanjian) €20 million
Marius Wolf (Eintracht Frankfurt) €5 million
Paco Alcácer (Barcelona) €2 million (loan)
Marwin Hitz (FC Augsburg) free
Achraf Hakimi (Real Madrid) free
Total: €75 million
OUT:
Andriy Yarmolenko (West Ham) €20 million
Sokratis (Arsenal) €16 million
Mikel Merino (Newcastle) €7 million
Gonzalo Castro (VfB Stuttgart) €5 million
Nuri Sahin (Werder Bremen) €1 million
Felix Passlack (Norwich) €500,000 (loan)
André Schürrle (Fulham) €400,000 (loan)
Total: €49.9 million
The following two tabs change content below.
Mathew Burt
A year spent living in Bremen got Mathew hooked on the Bundesliga with regular visits to the Weser Stadion getting in the way of his studies. Back in the UK now, he still keenly follows the Grün-Weißen and German football in general. Follow him on Twitter
@matburt74
.
Latest posts by Mathew Burt (see all)