The final whistle has blown, the heat of battle has just abated and the Bundesliga trainer is quickly thrust in front of a microphone to give his take on the action.
Whether his side have won, lost or drawn, whether a controversial incident is still seething inside, he gives his reaction and we bring you the best of the Bundesliga trainer soundbites.
Hannover 0-0 Borussia Dortmund
Andre Breitenreiter: "We played bravely and deserve this draw. It's a result we can very well live with. The first half hour was outstanding, but even after that we were always present and made it difficult for Dortmund."
Lucien Favre: "Nil-nil is ok, nil-nil is fair. They were very well organised and we had a hard time in the first 25 minutes. It was extremely difficult for us. Then things improved. The second half was ok.
"I can't say that we had the better of the match. We still have a lot of work to do. When we win the ball, we have to keep a hold of it, we mustn't rush things. We didn't do well at controlling the ball. We need to have a lot more possession. It's a question of movement, of tactical intelligence. We still have a lot of work to do."
FC Nürnberg 1-1 Mainz
Michael Köllner: "It is always difficult to play a Bundesliga game with an inexperienced team. We were not in control of the game before half-time and were not satisfied with our performance, even when they were not creating chances. Both teams played defensively in the first half. We could not take advantage of our opportunities and out of the blue we were 1-0 down. The question at half-time was: how can we deal with being a goal down?
"We made some tactical changes, which were key to our much better performance in the second half and we put Mainz under more pressure. The fans were euphoric when we equalised just after the break and it's a pity we couldn't find the winner in the second half. However, we have to remember we played very well today and were able to bring the momentum from last season onto the pitch in the second-half. We will only continue to improve."
Sandro Schwarz: "We saw two different halves of football from us today. In the first half, we controlled the game well, were stable and showed a good attitude. We just didn't create too many chances but we went into half-time 1-0 up. At half-time we discussed that we were not playing at our best and how we could change that.
"Nevertheless, soon after the restart, we conceded a goal as we were not concentrating. The tactical change by Nürnberg made it difficult for us to get out of our half, but that did not stop us from creating some chances. Karim Onisiwo could've scored the winner.
"All in all I am happy with a point especially after our second half performance. We have to go away and improve. On a positive note, we have played three halves of very good football in two games and go into the international break with four points."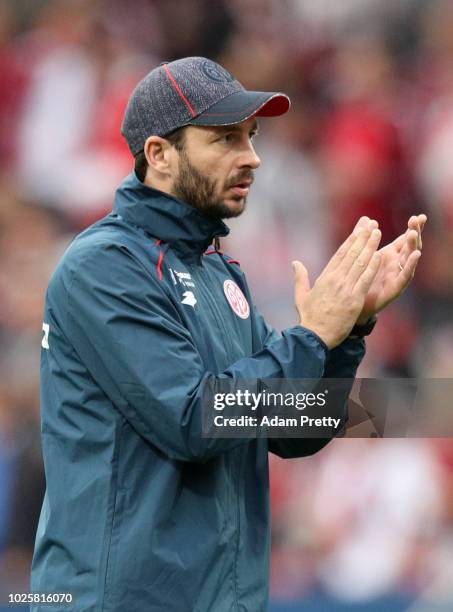 Augsburg 1-1 Borussia Mönchengladbach
Manuel Baum: "It was a brilliant 90 minute performance and a brilliant game for any football fan. Gladbach had a great chance to take the lead within seconds, but we managed to clear our lines. Aside from that, we had the best opportunities.
"At the end of the day, we were the more dangerous side, but we'll certainly take a point. If you'd offered us four points from two games before the start of the season, I'd have taken it without a moment's hesitation."
Dieter Hecking: "It was a high-intensity game that could have gone either way. Both teams played open football and were full of running. We could have taken the lead very early on, but then Augsburg went and scored with their first chance, which obviously played into their hands.
"We had to try and change things up at half time, although that didn't go as planned. FCA could have wrapped the game up during that period. We changed our system again though and found our footing as a result, then Plea scored what I thought was a deserved equaliser."
Hoffenheim 3-1 Freiburg
Julian Nagelsmann: "We made a very good start but the injury to Ermin Bicakcic caused a slight disruption to our game. We then conceded a slapstick goal, similar to the one we later scored to make it 1-1. And then Kasim Adams had to come off, as did Kevin Akpoguma during half-time. It's extraordinary to lose three central defenders like that. Adams and Akpoguma have been taken to hospital.
"During the interval we made a brave offensive switch and exerted pressure well. Towards the end we had to switch to a 4-4-1-1 formation because Freiburg were pushing for the equaliser. But we got over the line when we made it 3-1."
Lars Voßler (assistant coach): "We saw an intense game from both teams. We wanted to press Hoffenheim quickly and aggressively to stop them getting into their game. After taking the lead, we had a big chance to make it 2-0 which we didn't take.
"In the second half, we wanted to have more possession but conceded the silly goal to make it 1-1. When you make mistakes like that, you can't beat a team like Hoffenheim."
Bayer Leverkusen 1-3 VfL Wolfsburg
Heiko Herrlich: "We started well and went ahead, but we could have avoided the equaliser. After the break we had the opportunity to make it 2-1, but after we conceded twice we weren't able to turn the game around."
Bruno Labbadia: "It was really pleasing to see how much of a unit we were and how the team got the deserved reward for the performance. We hurt them with our shape. It was a good day for us. We drew a lot of strength from the relegation play-off [last season], and on top of that the team worked really hard in pre-season."

Frankfurt 1-2 Werder Bremen
Adi Hütter: "It's obviously a very unfortunate defeat for us. The team fought heroically a man down for 60 minutes, so to then concede that goal and lose the point so late in the game is really tough to take.
"Bremen were the more dominant team on the face of it through having the extra man, but the way we came back was impressive and we had lots of good moments going forward. The desire impressed me. In the end I'm sorry for my players and for the fans that we weren't rewarded."
Florian Kohfeldt: "The game was going to plan for the first 30 minutes; we were controlling the game, creating chances, and pressing well. Things became a bit more frantic after the red card. We were playing on the counter too often and we weren't creating as many chances.
"After the injury to Pavlas, it looked as though Frankfurt had the extra man. We want to play better than we did today, but the main thing was winning and we did that."
VfB Stuttgart 0-3 Bayern Munich
Tayfun Korkut: "It was just as difficult a game as we had expected. Against such an opponent, you need to play almost the perfect game – we didn't do that tonight. We were stationed 30 meters from our own goal and failed to push forward and create any pressure. Ultimately, the way to the opposition goal was too far. We were passive and just reacted.
"It's very difficult to break with more players over 70 meters. In the second-half, we looked to act higher up the park. That created space which our opponents knew how to use. Ultimately, the Bayern win was quite deserved. We now have to see to it that we prepare well for our next game."
Nico Kovac: "I'm fully satisfied. All four of our competitive fixtures so far have been good. The team turned in a really good display today, around 12 corners to Stuttgart's zero in an away match, lots of possession, they created promising chances. That looked really good, and I'd like to congratulate my team on it."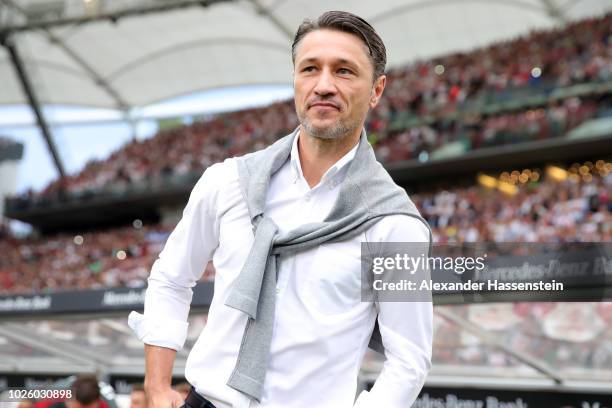 RB Leipzig 1-1 Fortuna Düsseldorf
Ralf Rangnick: "We found it difficult to find our rhythm in the first half. I'm most annoyed with the goal we conceded, because we gave them too much space. We had hoped for more today. Still, well done to Fortuna.
"I can't criticise the attitude and moral of my team in the slightest. But the whole team must defend better. There are still negatives – while some players were very good, others are still not at the level they once were at."
Friedhelm Funkel: "I'm really happy about the good performance from my team. We came out bravely with a solid foundation and always looked to get forward. Even after the opening goal, we kept going and that's not easy against a team that plays such aggressive pressing. My team did that well and gave everything.
"That's why I'm happy about this point, but even more about this strong performance. If we continue to be as close as a team, we will be able to annoy many teams in the Bundesliga. We will then win our games – which was possible against Augsburg and again today."
Schalke 0-2 Hertha Berlin
Domenico Tedesco: "Congratulations to Hertha. We are naturally very disappointed. We gave our all and were really up for it pre-match, but that wasn't enough to win the match. Ultimately our second half performance was enough to condemn us to a defeat. We only managed to put pressure on Hertha's goal in the final quarter of an hour.
"The first half wasn't too bad, although we struggled in the centre of the park as they marked us man-to-man. We therefore tried to attack them down the wings, which worked well down the left with Yehven Konoplyanka. I feel that we also lacked a little a bit of purposefulness going forward and also lost the ball on too many occasions. We now know what we are good and not good at.
"The things which we are good at we will carry doing well, and those things which didn't work today won't be tried again in the future. I take full responsibility for the mistakes made today. In the next few weeks we will work on our attacking game, so that our strikers are not so isolated anymore."
Pal Dardai: "It was a massive performance from the whole team today. It was difficult for us to prepare for Schalke ahead of the game, but my lads did very well. It felt like we hadn't won at Schalke for 100 years, which makes it so special for our fans today.
"I don't believe that our victory was undeserved, as we could have scored again from one of our counter attacks in the second half. As we didn't, it was still close in added time and thankfully Rune Jarstein saved the day for us. I'm also really pleased for Ondrej Duda after he scored twice today."
The following two tabs change content below.
Mathew Burt
A year spent living in Bremen got Mathew hooked on the Bundesliga with regular visits to the Weser Stadion getting in the way of his studies. Back in the UK now, he still keenly follows the Grün-Weißen and German football in general. Follow him on Twitter
@matburt74
.
Latest posts by Mathew Burt (see all)