The final whistle has blown, the heat of battle has just abated, and the Bundesliga trainer is quickly thrust in front of a microphone to give his take on the action.
Whether his side have won, lost, or drawn, whether a controversial incident is still seething inside, he gives his reaction, and we bring you the best of the Bundesliga trainer soundbites.
Bayern Munich 3-1 Hoffenheim
Niko Kovac: "It was an entertaining match, and it was a deserved victory, even by this margin, but it wasn't as clear-cut as the scoreline suggests. Hoffenheim did a decent job, especially between the 46th and the 70th minute. We failed to find solutions then. It's always important to have a good start to the season. We were dominant in the first half and allowed them few chances. The last 20 minutes of the second half were okay, too. "
Julian Nagelsmann: "We didn't play as we had planned in the first half. We didn't play boldly, we didn't have enough possession, so we had to chase the ball. We deservedly conceded the opener. We were much bolder then and put Bayern under enormous pressure. Bayern weren't in control in our half any longer. Then we saw frantic 20 minutes. Taken altogether the victory wasn't undeserved."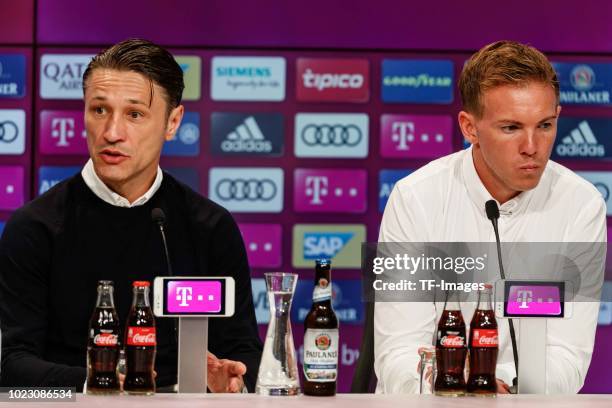 Hertha Berlin 1-0 Nürnberg
Pal Dardai: "Nürnberg are a very well-organised, smart team. In the first half, our new formation meant we lacked some courage. We got the lead though. At halftime, we changed some things around."
"We played well after the break, but we did not manage to get the second goal. At the end, it was great that Rune Jarstein saved the penalty, so overall we are pleased."
Michael Köllner: "We wanted to give a good performance today at the start and we succeeded. The team put in a courageous display. From my point of view, we were equal to Hertha and had the game in hand after the break. We can only rue that we didn't convert one or two chances. But the way we played today, we don't need to be afraid of the coming weeks and months."
Werder Bremen 1-1 Hannover
Florian Kohfeldt: "To summarise, it was not an unfair draw against a very good team. Defensively, other than the goal we conceded, we played well and only conceded two shots, which shows how good our defence was. The goal was conceded due to a mix-up between two defenders – an unlucky lapse in concentration. That's why I'm not going to be too harsh on the boys. In the end, we have proven that we can stay calm and get a point in a difficult game."
Andre Breitenreiter: "We saw a deserved draw. We can be happy and played good football, but in our switching play, we were lacking a bit. In the end, we didn't defend well and allowed too many crosses."
Freiburg 0-2 Eintracht Frankfurt
Lars Voßler: "It is a shame that we ended up without any points. We played well with the ball at times, but the game today was decided without the ball. We made two or three mistakes too many and then the result is 2-0, although we had our chances. It you want to play 0-0, you have to eliminate these mistakes."
Adi Hütter: "We worked hard for this victory, which was always important after the exit from the cup. It was a very passionate Bundesliga game and the three points do us good after the justified criticism, so I feel satisfaction. Especially since we have beaten a side who are strong at home in my first Bundesliga match and in a game where the expectations from outside were not very high.
"We played a back-four because I didn't like our recent build-up play, and it was crucial we had stability in this game. Evan Ndicka had a very good game. It should not be forgotten that he turned 19 just two days ago."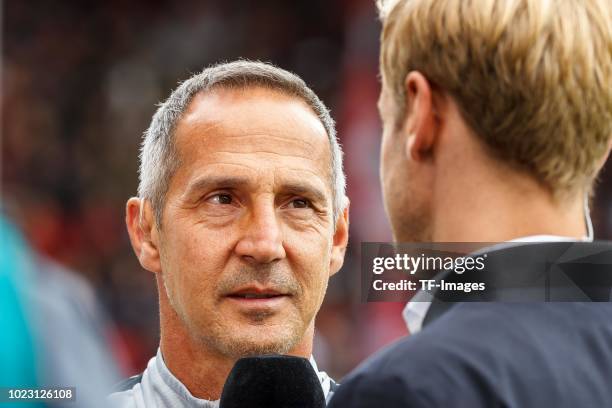 VfL Wolfsburg 2-1 Schalke
Bruno Labbadia: "It was an extremely intense match, whereby both teams got their tactics spot-on. I'm very pleased that we got our first goal through a set-piece, as Schalke are normally excellent from dead-ball situations. My team played very bravely and worked hard for the win.
"Obviously, you need a bit of luck when you play against a team like Schalke, who in my opinion are deservedly in the Champions League this season. Conceding the equaliser was a real kick in the teeth, but we didn't let our heads drop and were rewarded for that in added time."
Domenico Tedesco: "We played well in the first 15 minutes, and Suat Serdar could have made it 1-0 for us, However, after this, Wolfsburg dominated the rest of the first half. We changed to a 4-2-3-1 formation for the second half and then had to change it again once Matija Nastasic was sent off. After that, we defended a lot more from the front, winning the ball back a lot more.
"The lads fought brilliantly, believed in themselves, and were eventually rewarded with the equaliser. But we've still lost the game which is a massive disappointment. The first half wasn't good enough, the second was considerably better.
"It was fully acceptable that the referee took back his decision to send off Wout Weghorst. Even if it was the wrong decision, we still have to accept that. We all make mistakes in our lives. It is more important to me that everybody communicates fairly with one another. I always want everybody involved in the game to do so.
"Of course emotions are part of the game, but I think how people treat one another is important. By this, I am not explicitly naming VfL Wolfsburg, and I don't want to say anymore on this topic. Finally, I also find it important that we don't look to blame the referee for the defeat."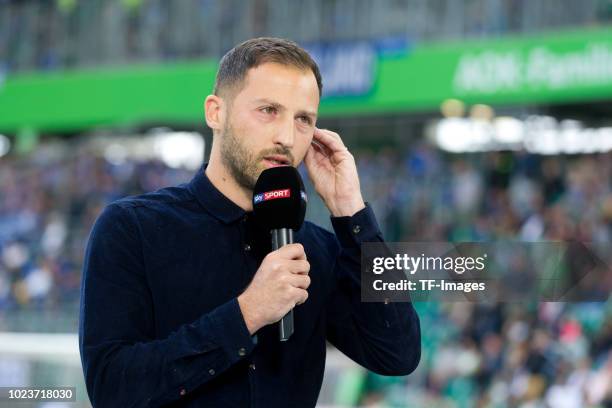 Fortuna Düsseldorf 1-2 Augsburg
Friedhelm Funkel: "In the first twenty minutes we were hardly in the match, as Augsburg forced us under pressure and embarrassed us. After halftime, we also didn't take two good opportunities and it created an end-to-end game of football. We didn't defend well twice on the flanks. Despite a 2-1 defeat, Fortuna gave a good performance."
Manuel Baum: "I think that we came through today's game very well. At some points, I did however get the feeling that we became too passive and allowed them to take the lead. We are very happy that we still won the match and scored twice in the second half. It's nice to finally win the opening game of the season at the 8th attempt."
Borussia Mönchengladbach 2-0 Bayer Leverkusen
Dieter Hecking: "We let Leverkusen have the ball in the opening 25 minutes. Our back four were playing together for the first time in the Bundesliga, which meant our wingers had to work hard defensively, and the midfielders were quite deep, too.
"I wanted the team to attack higher up in the second half and hit Leverkusen earlier. They did that exceptionally. We recovered possession very well and broke quickly. It's great that the team put into practice the things we have been working on recently."
Heiko Herrlich: "We did well in the first half, were very compact. It's a sham that we couldn't convert one of our big chances and take the lead. We were a bit too slow at the start of the second half and also picked up a few cards.
"We got a grip on the game again, but then the penalty was a real kick in the teeth. Borussia walked through for the second goal, we simply made it too easy for them. We lost the game at the start of the second half."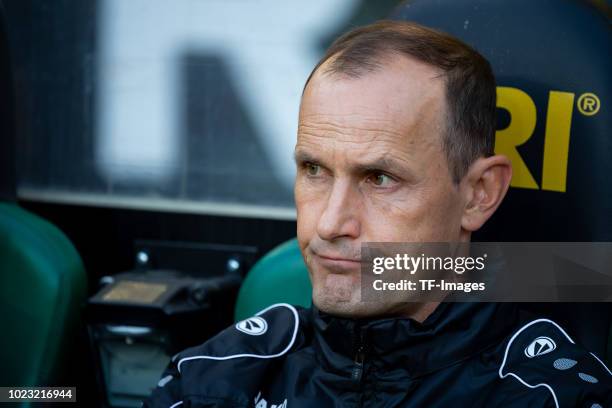 Mainz 1-0 VfB Stuttgart
Sandro Schwarz: "It was a very difficult game. We knew how well-organised Stuttgart would be in their 4-4-2 formation. We didn't start too well, and Stuttgart had more control in the opening stages. I think we gradually grew in confidence as the game went on, and we attacked better and more consistently midway through the first-half. We have to be better when there is a turnover in the play.
"The second-half was tough, but we were gaining momentum and Robin fought very well to get the ball and pass to Tony (Ujah). It was a hard-earned victory and it was important to start our season like this. I'm very pleased for Tony that he was the match-winner because his attitude is always perfect and his fitness levels are very good right now."
Tayfun Korkut: "Congratulations to Mainz. I feel we played well in the first thirty minutes. We knew that it would be an emotional, intense game against Mainz. We had the opportunities to go ahead, and for large phases of the game, we dominated. We were also at fault for the first Mainz chance.
"After the break we weren't as active, and the game opened up. Then we made the mistake that led to their goal. For us, it is about understanding how competitive this league is and learning that our mistakes will be punished immediately."
Borussia Dortmund 4-1 RB Leipzig
Lucien Favre: "They were better than us, especially in the first 35 minutes. They were faster and stronger in the tackles and they scored the first goal quickly and had more chances to score because we didn't defend well. We then showed a good response. The equaliser was a nice goal, a great cross from Marcel Schmelzer to Mo Dahoud.
"Roman Bürki has made several very good saves; it was a fantastic first-half parry against Augustin. We were a little lucky to make it 2-1 with Sabitzer deflecting into his own goal and the 3- 1 came at the right moment; it was a great goal by Axel Witsel.
"The confidence was now back. The second half was okay at first, but then Leipzig came back. They created a few goal-scoring opportunities; not many, but dangerous. We could have scored the fourth goal through Dahoud after a great cross from Marco Reus.
"There is much to correct. In possession, we should have played much wider against the pressing of Leipzig. I do not want to say that we were lucky, but it went well for us."
Ralf Rangnick: "I am completely satisfied with the first half-hour. Roman Bürki has been outstanding. We have again conceded goals from crosses and set-pieces. As a result, unfortunately we haven't received the reward for a really good performance.
"My team made a fresh and good impression. That's why I'm not worried. We look ahead. We have three home games ahead of us after the away match next week and we are looking forward to that."
The following two tabs change content below.
Mathew Burt
A year spent living in Bremen got Mathew hooked on the Bundesliga with regular visits to the Weser Stadion getting in the way of his studies. Back in the UK now, he still keenly follows the Grün-Weißen and German football in general. Follow him on Twitter
@matburt74
.
Latest posts by Mathew Burt (see all)