Thoughts on the 1. FC Köln 1:2 victory at BayArena over neighbor Bayer Leverkusen:
How We Got There 
After his Leverkusen side delivered a 5:1 win in Roger Schmidt's first meeting with neighboring 1. FC Köln, the second-year Bayer boss was openly critical of Peter Stöger's highly defensive game plan.
"Everyone has their own philosophy. I could not play football the way Köln played today. Otherwise, I would be no kind of coach," said Schmidt. "I quite enjoy when a team penetrates and wants to play football. Therefore, it was important that such football was expressed in the highest manner."
Stöger's response to the jab was typically understated, if also loaded with plenty of added shade. "You can't buy respect," was a shot at both Schmidt's uncouth while also bringing up the fiscal advantages Leverkusen has from their connection to Bayer Pharmaceutical.
Schmidt seemed to have learned a lesson from the negative public reaction to his words last year, saying earlier this week "I must be cautious in what I say about Köln" and comparing the Billy Goats favorably to AS Roma, who scored seven goals on his team in Bayer's two most-recent Champions League matches.
The effzeh appeared from the very start as if they had taken note of Bayer Leverkusen's defending in those matches against the Italians. Stöger's guys showed no sign of sitting back defensively, immediately creating chances and testing Bernd Leno.
In the 17th minute, Marcel Risse sent a long free kick into the Leverkusen box. Kyriakos Papadopoulos got a slight piece of the ball, but not enough to deflect it away from Dominic Maroh, who drove the ball into the goal for a deserved 0:1 early lead.
Sixteen minutes later, the score was levelled by Javier 'Chicharito' Hernandez's header of a nice Admir Mehmedi cross. Though Hernandez and Mehmedi go in the score book for the goal, the play was all built a terrific run by Kevin Kampl (and maybe some OLE! defense by Kevin Vogt), who darted through Köln's efforts at defending before playing the ball to Mehmedi.
The goal seemed to trigger a mental setback for the effzeh, as the earlier attacking posture evaporated for the remainder of the first half. The defense held, however, and carried the 1:1 into the break.
The second half started much like the first, but with the effzeh appearing even more determined to force the issue by attacking. After several promising possessions, Anthony Modeste got behind the Leverkusen defense onto a Kevin Vogt ball. Papadopoulos hauled Big Mo' down from behind. With no defenders between the attacker and Leverkusen's goal, referee Felix Zwayer hesitated not a bit in reaching to his back pocket for the red card.
The man-advantage, though, took nearly 20 minutes and another set piece to provide Köln the moment that seemed coming all afternoon. It was again Risse and Maroh collaborating, this time on a corner kick in the 72nd minute. Risse sent the ball into the middle of the area, where a fully unmarked Maroh completed his double with a header.
The defensive chief then resumed his normal defensive duties, helping keep Leverkusen from mustering much in the way of offensive chances through the remaining time, providing the visitors a celebrated away win at a despised rival.
What it Means
The 1. FC Köln, always certain that it is the "Number One on the Rhine" regardless of on-pitch results, can claim ownership of that title from actual football

These Jungs are ready for a party or three.

accomplishments for the Hinrunde. The Billy Goats already beat their most-hated rival, Borussia Mönchengladbach, on match day five, 1:0.

The international break will be all the more tolerable for being preceded by such an important victory. An extra week away from football after a disappointing result does nothing but extend the amount of time until the next opportunity to be rid of that game.
Karneval is going to be just a little more festive for fans of the "Karneval club." The season opens Wednesday morning with a full day of celebration, but there's a chance some of the effzeh faithful will simply continue into Wednesday from Saturday's party.
Köln will spend the international break in seventh place, one point ahead of Leverkusen and one point behind Mönchengladbach (and that second Europa League place).
The 18 points collected through twelve matches is three ahead of last year's pace.
The next four opponents on Köln's schedule — Mainz, Darmstadt, Augsburg, and Bremen — are all currently below the Billy Goats in the table.
Stock Watch
Rising – Dominique Heintz
If anything could get lost in the Maroh-Sørensen story, it might be the continued excellence of Dominique Heintz.
Though Leverkusen's offense has had its problems scoring this season, they've also shown at times the explosive nature of their talented roster. Timo Horn was forced into a few good saves, but several Bayer possessions were turned away by the strong efforts of the central defense. We'll get to the other half of that duo, but it would have been difficult to imagine this 22-year-old playing with such calm composure and strength in his first Leverkusen-Köln derby. Yet, Heintz has been a near-perfect replacement for the departed Kevin Wimmer since arriving from the second division and 1. FC Kaiserslautern.
Jörg Schmadtke might consider extending Heintz already, locking him down contractually to assure that when he goes, a lot of money will be coming the other direction.
Rising – Timo Horn
It's virtually impossible for Horn to truly be "rising," to be honest, but we should not ignore the importance of his early work to keep the scoreboard clean for Maroh to eventually sully.
We also had a few "the new Neuer" moments with Timo using a deke to evade a pressing Pill player and later getting outside his area to slide a ball away from the path of Karim Bellarabi.
I think the word is already out on Timo being one of the top keepers in a league known for its great collection of them, but he continues to impress with great performances. As long as the conversion rate of offensive chances remains somewhat low, he's as important as anyone to the cause.
Falling – Karneval Jerseys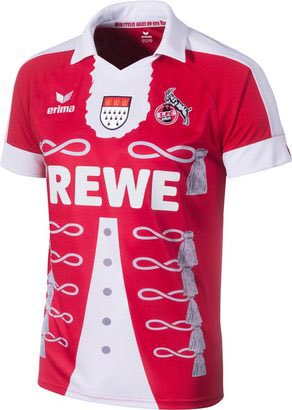 Today was meant to be the day for wearing the controversially beautiful Karneval jersey, so imagine my surprise to see everyone in home whites when the television kicked on this morning.
I haven't researched the reason, but it seems safe to assume that Zwayer compared the mostly-red special shirts to the black and red-striped top of the hosts and decided they weren't different enough for him to differentiate when players are clustered.
Though, we might not rule out an equipment man having been slipped a note that he should conveniently "forget" to pack those kits for the trip across the Rhine River.
If you can't say something nice . . . Yuya Osako
Actually, I can say something nice.
Osako made a nice play taking a throw-in with a run and headed cross that made for an exciting moment. He also later played a touch into the area with the right amount of force behind it so that he could crank a heavy shot onto goal, which forced a big save from Leno.
Other than that, though . . . at least two building moments killed by awful touches in the area that ended with goal kicks without benefit of even an errant shot.
But, we got the win, so today's a good day to go easy on Osako, even if I continue to be mystified by his regular presence in the line-up.
Man of the Match
Easier than converting a penalty kick without a keeper between the posts . . .
Dominic Maroh is the only choice here. Our long-time presence in central defense made his first start of the season (Bayern games don't really count, you know?) in Leverkusen, and to say that he made the most of it would be an understatement of absurd proportions.
Maroh's work in teaming with Heintz in keeping the peace on the back end would have been plenty noteworthy, considering he'd finally been given a chance to get his job back after returning from a summertime injury.
But it wasn't enough for the newly shaved regular 'Movember' participant. Not only did he score two goals, but got them both from set pieces, notoriously a weakness for the 1. FC Köln.
Considering today's goal contribution matches that of his most-prolific season (He scored two in his debut season with the FC in 2012-13), we should probably not expect that to become a new facet of Maroh's regular game. We should also keep in mind that Maroh's return for the first highly attacking game in a while was coincidental, not causal.
But for a day, you can squint and say that Maroh's experienced presence boosted everyone's confidence moving forward in a big game and that the veteran then stepped up and got the goals the team has been lacking, again at a crucial time.
Kudos to you, Dominic Maroh. It was good to see the #5 back amid the action for our Billy Goats.
Next?
International break means no match next week, but before we look at the following Saturday's home match against 1. FSV Mainz 05, we should note that our Karneval club will be doing its Karneval thing, even if the special kits went unused today. Keep an eye on Planet Effzeh for pictures of players and personnel in full regalia as the club continues to reclaim the meaning of "you're just a Karneval club," off the field as well as it has been on match days.
The following two tabs change content below.
Randall Hauk is a freelance writer living in the United States while covering German football. He is currently the publisher of Planet Effzeh, an English-language site covering 1. FC Köln. He wrote about the German national team for the Telegraph as part of their World Cup Nation coverage.
Latest posts by Randall Hauk (see all)