"1. FC Köln has signed striker Philipp Hosiner . . ."
The words we all were expecting from the club back in January have arrived with even more cause for celebration than they would have been at the beginning of the year and precisely due to the reason behind their delay.
When reports of Hosiner arriving in Köln for his medical exam began to surface in the midst of the winter transfer window, fans naturally anticipated the official announcement of a transfer to follow. But before the majority of the inhabitants of Planet EffZeh had been able to fully debate his role in the squad and how it might help untrack a sluggish offensive attack, word became to spread that the deal had fallen though and that something discovered by club doctors was the cause.
In this case, what caused the club to back-out of the deal wasn't something typical for an athlete, such as a rehabilitated knee injury not being quite 100% recovered. Instead, physicians discovered a sizable tumor on one of Philipp Hosiner's kidneys.
"I actually wanted to convince the doctors that we should operate no sooner than summer," recalls Hosiner. "After a few minutes, it became quite clear to me. The thing had to come out."
The "thing" was his left kidney, which was removed during a February operation at a hospital in Vienna, the city where Hosiner built his reputation as a goal-scoring machine, leveraging 27 goals in 30 matches to help drive FK Austria to the 2012-13 Austrian Bundesliga championship.
The coach of that championship side, of course, was none other than current Köln boss Peter Stöger.
Talk that Hosiner would eventually follow his former coach to the Domstadt began almost immediately upon Stöger's arrival, but the coach dismissed the notion with a very blunt suggestion that Hosiner was simply too expensive for his new second-division side, somewhat glossing over the fact he'd have been very happy to be able to do so.
"If it had been possible, I would have brought him with me two years ago, but my own situation was not easy," says Stöger, recalling how his new club had already had to pay FK Wien a fee to hire the coach, "To then also ask for Hosiner would have been difficult."
Fast-forward to January 2015 and the environment for such a suggestion had changed completely. 1. FC Köln was no longer a second-division side, rather a Bundesliga side with top-flight revenue. Stöger's roster also possessed a sizable hole at striker due to a hip injury that ultimately proved to be career-ending for Patrick Helmes.
Meanwhile, in France, Hosiner had failed to make an impression at Stade Rennais, forced to mostly just watch his new club's matches and looking for a way to get back onto the pitch.
In what must have felt like a sudden and rough tackle from behind while making a run for a one-on-one with a keeper who signals his moves too early, Hosiner's hopes of starting anew, under a coach with whom he'd enjoyed his greatest career successes, were brought down by a diagnosis.
It didn't take long for Hosiner, though, to realize his bigger battle was not for playing time.
"I really only hoped that I would wake up," says Hosiner of his pre-surgery mind-set. "But already in the recovery room, it was clear to me that I would again play football."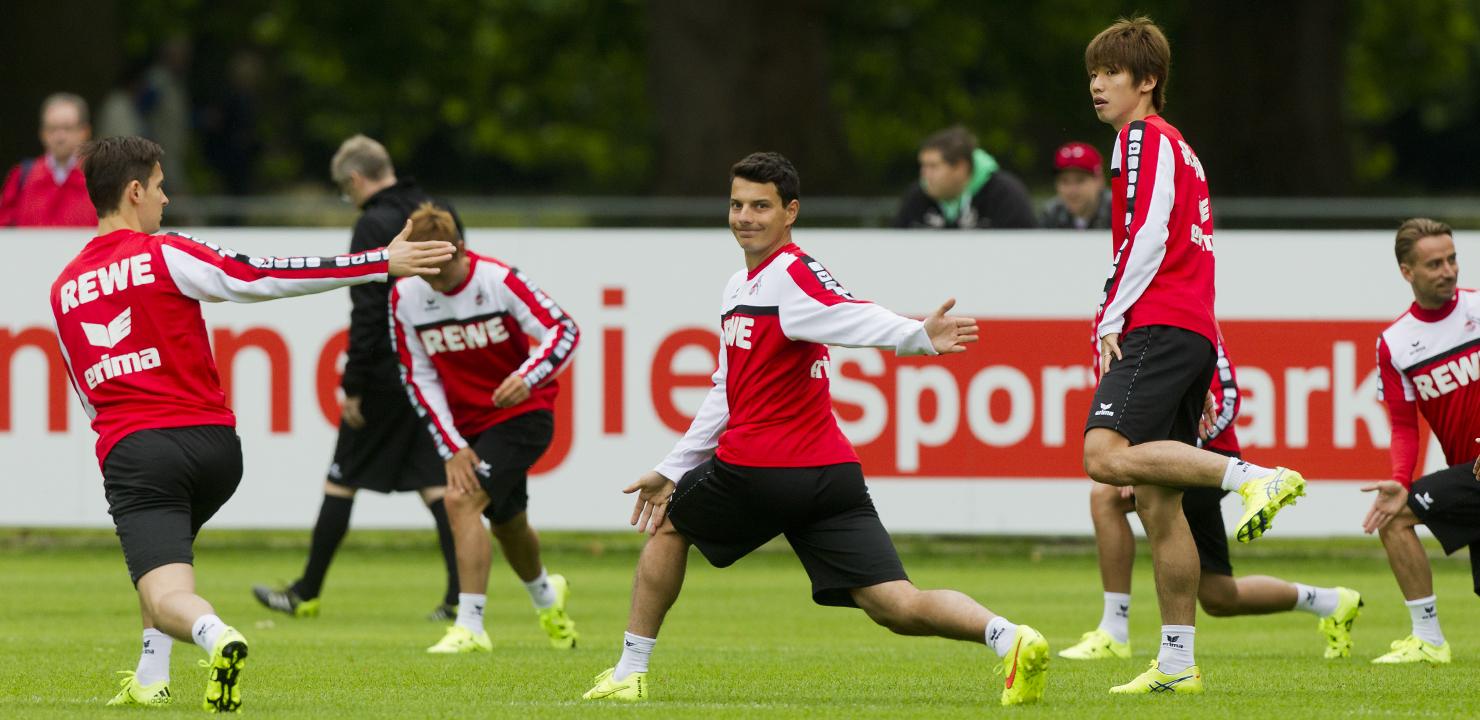 And he will play it, for now, in Köln, because "The Austrian completed his medicine check in Cologne on Monday."
Though, it's not just because Hosiner is healthy, and certainly also not because finally completing the transfer is a good public-relations move for 1. FC Köln.
"We have not brought him in to write a Hollywood story," says Stöger, "but so that he scores goals, with which we will stay in the league."
Sporting director Jörg Schamdtke was similarly without a sentimental motive when discussing the season-long loan through which he has delivered to his coach a player he'd long desired.
"It is nice to hear that he is fit to play again and I am happy the transfer went through this time," said Schmadtke. "With his speed, movement, and instinct for a goal, Philipp makes us even more flexible in our options up front."
As for the newly arrived 26-year-old, he wouldn't have it any other way.
"I proved back then in Austria to Peter Stöger and Manfred Schmid that I can score goals, which is why have been brought here," said Hosiner in an interview with FC-TV. "I want to do my best to contribute here. I won't promise a goal total, but I will promise to always give 100% for this club."
https://youtu.be/2LQwHqcegog
The following two tabs change content below.
Randall Hauk is a freelance writer living in the United States while covering German football. He is currently the publisher of Planet Effzeh, an English-language site covering 1. FC Köln. He wrote about the German national team for the Telegraph as part of their World Cup Nation coverage.
Latest posts by Randall Hauk (see all)