A quick reaction to 1. FC Köln's scoreless draw with Hertha BSC.
What it Means
A bit over a week ago, Jörg Schmadtke said he figured his club likely needed another seven points to save their spot in next year's Bundesliga.
Though he detailed it as requiring two wins and a draw, with Saturday's draw following last Sunday's win, the club has more options in how they gather those three points.
A win would have been grand, but it was clear fairly early in the match that the 1. FC Köln was never going to chase three points at the risk of losing the one.
With both clubs at 33 points and safely distanced from the relegation spots in the table's midsection, you'd not be too surprised to know Hertha BSC showed they were somewhat like-minded in this regard.
The match looked almost exactly what you'd now guess it looked like, leaving fans of both sides maybe wishing for more excitement in the match and that more points would have been nice, but finding the result completely acceptable.
The scoreless match was Köln's eighth of the season, which is the new Bundesliga record.
Stock Watch
Rising –  After a nine-game absence due to a battle with mononucleosis, young midfielder Yannick Gerhardt made his return in the 62nd minute, replacing a largely invisible Kazuki Nagasawa.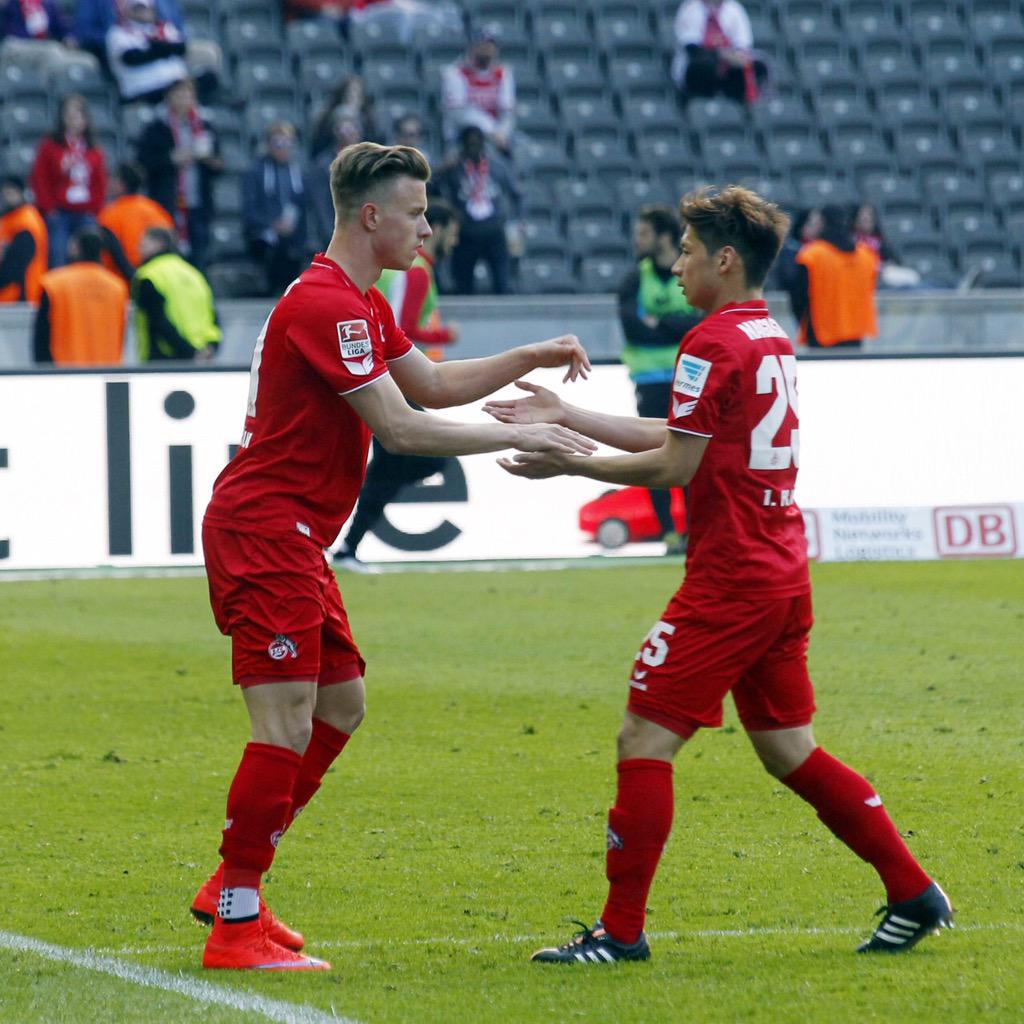 While the Billy Goats clearly did not score, they did see a nice improvement in the offensive game with Gerhardt in the team. If he can pick up where he was forced to leave off, the 21-year-old rising star will have a role to play in helping Köln retain the class.
Rising – Dominic Maroh continues to prove his value to this club. With central-defense partner Kevin Wimmer ready to move to England, Maroh will remain the reliable anchor to a well-organized defense.
This does not mean Maroh moves like he's an anchor, though.
The Slovenian national player was, of course, strong in propelling Hertha attacks from his defensive area, not only on land but also by air. On the other end of the field, Maroh was dragged to the ground in the penalty area by Per Ciljan Skjelbred during a free kick in a play that would certainly have been awarded a spot kick had only referee Knut Kircher seen the play. Shortly before halftime, Maroh put a headed chance a bit over the crossbar to provide one of his side's few offensive chances.
Falling – Miso Brecko pulled on the captain's armband for just the second time since early December and showed plenty of evidence of rust with sub-par defending.
Brecko also got Köln's only on-target shot of the first half, but in order to hit a not-at-all-dangerous shot straight to keeper Thomas Kraft, he had to overlook the chance to lay the ball off to an unmarked teammate at the edge of the area.
With Pawel Olkowski out for the year, Peter Stöger would probably have liked to see better from Brecko to avoid needing to consider whether he might be forced to use midfielder Marcel Risse at right back as he had to do late last season when Brecko collected his fifth yellow card, and that assumes Risse, who missed this match with muscle issues, will be healthy.
Match Ball
Who else but Timo Horn, who once again can be credited with a point-saving performance?
Note: If you're a club with lazy scouting but some money and are thinking that Horn should be your next purchase, I have to tell you he has a LOT of glaring flaws in his game. He's always on the verge of awful. Okay? Thanks. Bye! Go on now!
Okay, back to the real deal. How great has Timo Horn been for this club this season?! I'd argue (and win that argument every time) that he's been the single most-important player for Köln this season. The defensive philosophy has required a solid structure, which has been there for the most part, but there have been enough leaks that Horn has made several game-changing saves on tough chances.
We will eventually, in all likelihood, need to find out what life will look like without our Timo, so let's enjoy it for as long as we can and be incredibly thankful for what he has meant to this season.
Next?
Red-hot Bayer Leverkusen comes to RheinEnergie riding a seven-match win streak. I'd note that they've been ripping apart relegation candidates and out-of-form sides for the most part, but they've looked really good in doing it, so it's a pretty big task for the boys.
The following two tabs change content below.
Randall Hauk is a freelance writer living in the United States while covering German football. He is currently the publisher of Planet Effzeh, an English-language site covering 1. FC Köln. He wrote about the German national team for the Telegraph as part of their World Cup Nation coverage.
Latest posts by Randall Hauk (see all)