Travis Timmons and Randall Hauk get together to bring you a preview of Saturday night's Bundesliga battle between Borussia Dortmund and 1. FC Köln.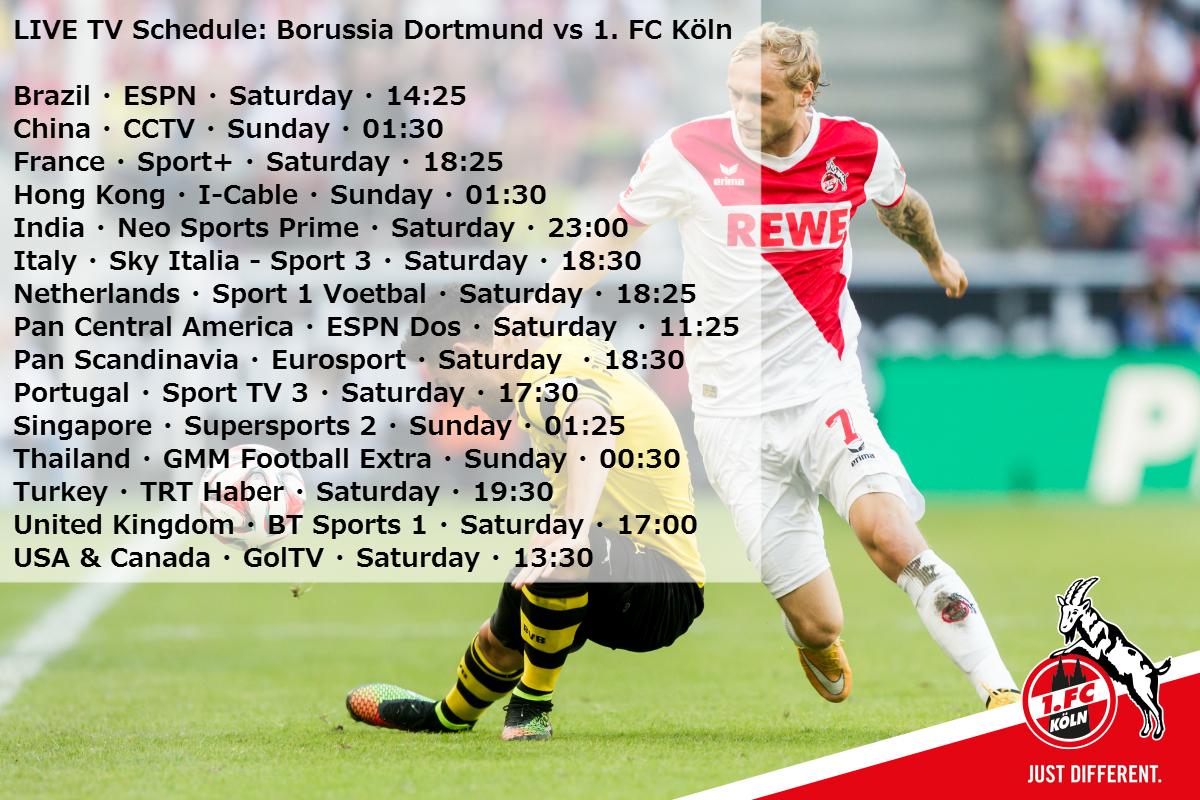 Hinspiel
Travis: Until Kӧln's 4-2 romp over Eintracht last Sunday, Borussia Dortmund had provided the Billy Goats their only previous home win for the entire season on Matchday 8 when the home side won 2-1. Hindsight thinking transforms this loss into a dark harbinger. Kӧln's Kevin Vogt opened the scoring at 40'. Immobile equalized eight minutes later after halftime. The stalemate was broken at 74' when striker Simon Zoller scored for Kӧln. Then BVB chased and chased a second equalizer.
This match became BVB's archetypical loss. For BVBers, the script quickly became familiar: out-shooting (16/3 to 6/2), out-possessing (65% to 35%), and out-ball touching (629 to 342) the opponent, yet the goals didn't come. BVB repeated this kind of performance for months afterwards.
Randall: Billy Goats 2, BVB 1.
It was a heartily celebrated result for the 1. FC Köln. It was the first home victory since returning from a two-year banishment to the second division, coming through the first two goals scored before the home faithful in the new season, and it came against one of the mightiest of Bundesliga clubs in recent times. Though we had known the BVB was not quite up to its usual high level, there was not yet any notion of the Black and Yellows holding the Rote Laterne or taking measures in case of relegation. No, it was simply a momentous victory that planted the Kölsche flag firmly in the Bundesliga loam.
BVB's struggles may have removed a bit of the shine from the victory over the succeeding weeks, but not as much as did the fact it remained the lone home win for Köln through eleven attempts.
Current Form
Travis: Four wins in a row until drawing in Hamburg on Saturday – that black box of a place. HSV nearly fouled BVB off the pitch with 23 called fouls. It was a hack fest. In the bigger picture, Dortmund have climbed from last place to 10th place during this happy run. Equally important, BVB's attacking core of Marco Reus, Pierre-Emrick Aubameyang, Shinji Kagawa, and Ilkay Gündogan is healthy and running at peak form. Although the draw at HSV played into the frustrating archetype from earlier in the season, one match does not a sample size make. The fumes of good form still linger.
Randall:  The 4:2 win over Frankfurt last week marks a huge disconnect between February-EffZeh and the unknown before us. The fact is, the arrival of Deyverson to the starting eleven has caused an immediate upheaval of the squad that could hardly find an offensive chance and delivered a team that suddenly shows life in attack. Surely, four goals looks gaudier than it really was, much as how Deyverson's theatrics were meant to provide embellishment for even the lightest bits of contact, but those goals were accompanied by more attacking play than Köln had bothered to provide in recent weeks.
The team was lauded for showing fight against Bayern after falling behind by two early goals the weekend prior, and justifiably so. How often has Manuel Neuer had to flash is world-class form to prevent his team blowing a two-goal lead?
Whatever credit was built in Bavaria was blown in the Breisgau, when two goals over a span of seconds and a poor performance overall turned the "moral victory" from Friday night into an eyeroll-inducing "well, at least you 'played well' at Bayern . . ."
Essentially, this club has been all over the map of late. The concept of "form" has little place in discussing it.
Offense
Travis: Dortmund is creating plenty of shots (3rd most in Europe's big leagues) and splashing champaign all over the opponent's final third with attractive passing work. The attack is mostly back, especially when opponents try to play the ball out of the back with short passes – playing right into BVB's interception-generated counters. Gegen-pressing at its finest. HSV sidestepped this problem by simply lobbing clearances out of the back. Will Köln do the same?
Chemistry-wise, the likes of Kampl, Mkhitaryan, and even Sahin still don't quite fit in. Kampl's energy is wonderful, but he seems a bit lost. Mkhitaryan looks like a baseball pitcher needing an AAA reassignment. While Sahin is Bundesliga average right now. Then Lakasz Piszczek is out at right back. Ollie Kirch has been serviceable, but he lacks the Pole's dribbling, cutting, and cross-pitch passing abilities. Sokratis has been injured, so he's probably ruled out to replace Kirch. In all, however, BVB is playing well in attack. My complaints are small.
Randall:  There seem to be some indications that Peter Stöger will pull back a bit on the offense unleashed last weekend to trigger the 4:2 over Frankfurt. Though the BVB defense may have its issues for exploitation, they are not the league's worst defense, which is what the numbers suggest Frankfurt to be.
You never know for sure whether Stöger will roll with a single- or double-striker formation until you do. In the past, it has made little difference, with the defense-first organization taking precedence.
Though the Deyverson-Ujah tandem appears to be a new animal, expect Stöger to maybe leave the Brazilian on the bench to start and return to organized defense and attempting to hit on the counter, generally via long balls to Anthony Ujah. Fans won't love to hear it, but Stöger would be more than a little happy with yet another scoreless draw in which offensive chances are sacrificed in favor of trying to keep the sheet clean, with Deyverson likely reserved in case of late deficit . . . but only maybe.
Peszko has been causing fits for opponents on the left side. Risse has been hot-and-cold on the right. Nobody has done much from the middle, though, which is why you could still see a double-striker set-up.
Defense
Travis: I find it hard to say where BVB is right now, defensively. Sure, goals are not being conceded, but I don't know if the problems with transitional defending have been addressed. Subotic and Hummels, particularly, have been stellar in one-on-one challenges when the opponent breaks on the counter, but either defender is one misplaced/mistimed challenge away from conceding. Razor-thin business back there! Moreover, Weidenfeller has been forced to make 1-2 gasp-inducing saves a match. I think it's partially good luck that BVB have their streak of clean sheets.
However, I'm worried about what 1.FCK will do along BVB's right flank with Kirch in for the injured Pszczek and Hector or Risse racing down the touchline. Or will the defense overcompensate, leaving Deyverson open? Ujah . . . my anxious mind could go on . . .
Randall:  The bread and butter of the class-retention bid takes a hit from the absence of Kevin Wimmer, who is serving a one-match ban for a needless red card at the end of the Frankfurt match. Mergim Mavraj, the most-likely replacement to pair with Dominic Maroh has seen some playing time this season, including in the Hinspiel, but the back line's success will also be based on the support from Kevin Vogt and Matthias Lehmann at the double-pivot.
It should be a pretty typical bend-but-do-not-break effort, with Köln conceding possession and staying compact.
Goalkeeping
Travis: Thank god it's the Rückrunde and Weidenfeller is back in the saddle. He's been good for BVB lately. Not spectacular, but good enough to save the high back line's butt after opponents inevitably get through. Surely a goal or two is bound to get past him in these scenarios though – Ujah has me worried. But in Roman we trust – again.
Randall:  Timo Horn is arguably the most valuable player for 1. FC Köln. With the team almost always playing for a low-scoring affair, the critical saves really stand out as point-preservers. Usually, if the ball finds the back of the net, it's a defensive let down and not goalkeeper error. Horn is unlikely to be the reason BVB gets points Saturday, but he could definitely be the reason his own team takes one or three.
Coaching
Travis: Kloppo, Kloppo full of grace. Forgive us our tresspasses. Forgive us the sin of doubting. (Not that I ever did, of course!) The lovely bearded bear has thankfully returned to his fist-pumping, leaping, and grinning ways. Boy, was I nervous when we lost him back in early February. That slack-jaw moment after the home loss to FCA really haunted me.
Optics aside, I don't have much to say about Klopp's recent tactics. After starting the Rückrunde with a totally passive longball game, Klopp has shifted BVB back to their customary pressing and countering game. Moreover, Klopp has stuck with similar lineups during the win streak, especially on top. Squad rotation options are somewhat limited with injuries to Piszczek, Großkreutz, Bender, Kehl, and Kampl. Plus, the flu hit Dortmund pretty hard. Against Köln, Kloppo might give Auba a rest and start Ramos, but I struggle to imagine Klopp doing anything to punt off 3 points on Saturday. Anyhow, Sahin is out for Saturday, so expect a Bender and Gündogan defensive midfield.
Randall: You going to go with a double-striker attack coach? "Well we have gone with two in the past, even more often than most teams. Sometimes we use it away. Sometimes we use it at home. It's certainly conceivable we'd use two."
It almost makes you think he's leaning toward just one, but you truly never know with Poker-Face Pete.
Stöger's controlled demeanor definitely drives segments of what is famously a very emotional fan base a bit crazy, but it also seems to keep everything calm and cool. The company line this week is that "Hey, we could be successful in Dortmund" along with "A point would be a success."
Which leads you to believe double-striker.
You just never know.
Intangibles
Travis: It'll be rocking on Saturday night in Dortmund. Yellow Wall madness. A five match unbeaten Bundesliga streak on the line. But, but … next week's UCL must-win clash against Juventus looms. Will this upcoming event hamper BVB's play? Otherwise, my own intangibles are happy-happy about this match. Besides, Ujah will struggle: Hennes VIII is back on the farm, resting.What will the Nigerian wonder do without his talisman?
Randall: Four goals and three points represent a removal of a giant monkey off the back of a team that had to feel the pressure of expectations of a fan base wanting to feel better about avoiding relegation, to see some wins at home, and, hell, even just see some goals scored. With such a burden removed, it'll be interesting to see how the team comes out at Dortmund. The idea of "stay loose" is good in theory, but is contrary to the highly organized defensive stance Stöger generally provides. Playing loose in such a system tends to lead to problems.
But, it could also simply provide a confidence boost, which can give that added lift to the attacking moments. Players like Marcel Risse and Daniel Halfar seem to do well when things are going their way, but nobody seems to get as much a boost from sunshine than does Anthony Ujah. If the Kölche Jung from Nigeria starts feeling good about his game early, he can and will cause problems for Dortmund.
Though not for Hennes, because it's an away game.
Prediction
Travis: Scoreless after a tense, but loud first half. BVB break through about 15 minutes into the 2nd half. Kӧln tempted an equalized a couple of times, only to give up another goal late. 2-0 Dortmund.
Randall: In my weekly Tippspiel, I chose 1:2 for the good guys in this one, because I like to pick my guys to win every week and that was the result from last go.
If I'm honest, I don't have as much confidence in that prediction as I'd like to have. I do think Köln can keep the big guns of Borussia quieted, and I also believe they can exploit Dortmund's at-times dicey defending. I'll go with 1:1 thanks to a few near misses by Reus and a few big saves by Horn.
The following two tabs change content below.
Randall Hauk is a freelance writer living in the United States while covering German football. He is currently the publisher of Planet Effzeh, an English-language site covering 1. FC Köln. He wrote about the German national team for the Telegraph as part of their World Cup Nation coverage.
Latest posts by Randall Hauk (see all)