A quick reaction to FC Köln's 4-1 loss at FC Bayern München.
What it Means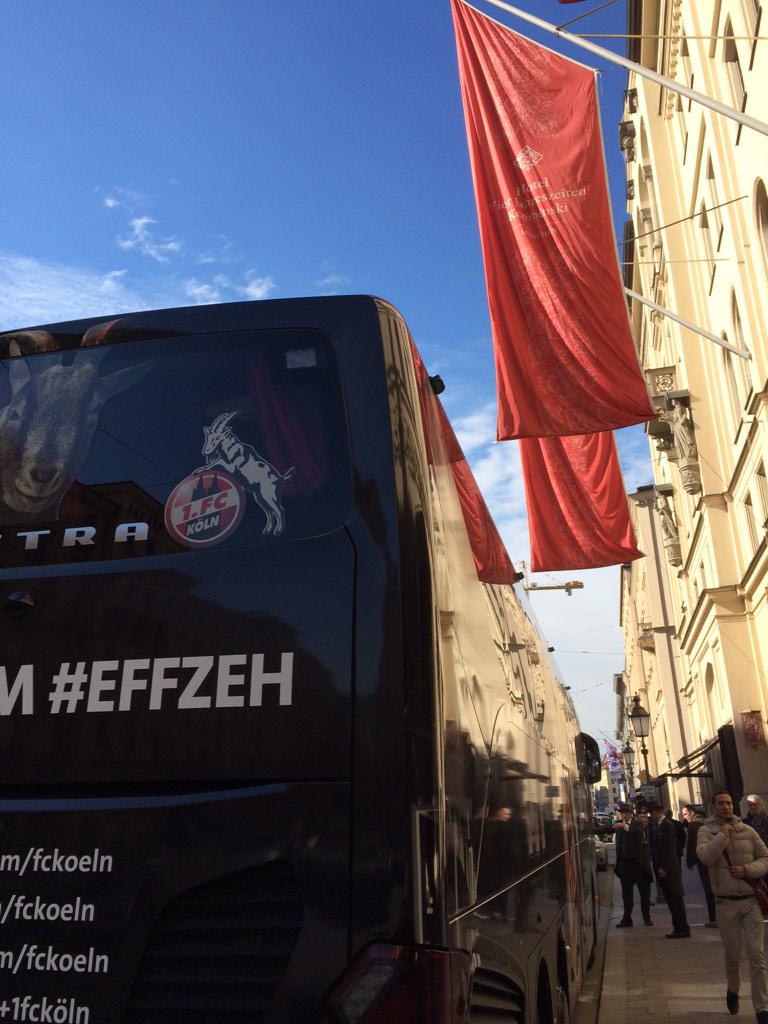 Despite a week filled with talk about not getting pummeled the way recent opponents have and repeated mentions of maybe launching a sensation, the 1. FC Köln took their turn at the Allianz Arena and came away with no points and another minus-three added to the goal differential.
Because Bayern is what Bayern is, the disappointment of a loss is pretty much non-existent. Instead, there were signs of offensive life from the offense after falling behind early, giving hope of some actual goal production heading into the Tuesday's DFB Pokal match at Freiburg and the final third of the season, which is presenting itself as the most-heated segment of what was always going to be a season-long fight against relegation.
To that end, Köln did not put any points between themselves and the two clubs pursuing them most-closely, but when you remember the 8:0 pasting taken by Hamburger SV two weeks ago and the 0:6 by Paderborn last weekend, the Billy Goats can look at the trio of results helping extend their goal-differential advantage over either of them.
But it's mostly going to be about whether the new-found offensive spirit can help take Köln into the Pokal quarterfinals and then to also get a few three-pointers to make the goal-differential irrelevant to the matter.
Stock Watch
Rising –  Timo Horn was under fire early and often, as was somewhat suspected would be the case. The Köln defensive end was frequently flooded by some of the best footballers in the world, and Horn looked good in surrendering four goals. You can probably say that Horn stopped everything he should have and even a few that would have eluded other solid keepers.
In all likelihood, with it being a Friday night match against the Rekordmeister, a lot of people got their first glimpse of the young keeper they'd probably heard mentioned as a transfer target before they even knew where he played his football.
Even in decisive defeat, the young keeper's star continues to rise.
Rising – Anthony Ujah already showed himself to have returned to form last weekend, but he definitely accorded himself quite well against the Rekordmeister, giving the host something about which to worry on their defensive end. He will probably spend too much time pondering what might have been, had he been able to finish the aforementioned set-up from Peszko, but he should hopefully also let his current form drive him to further greatness this week in Freiburg.
https://vine.co/v/O2d9KxAPrhP
Falling – It is slightly antithetical to have a player make consecutive appearances as "falling" in value, but Yuya Osako's performance merits pointing out again what a disappointment he has been.
In the early going, when Köln was overwhelmingly on their heels, it makes sense that you might not notice a striker (though you did see Anthony Ujah trying to help under the Bayern pressure). But when the Billy Goats started going forward trying to do something about the quick two-goal deficit, Osaka remained anonymous.
I will offer the caveat that Osako also is continually being asked to play in the midfield, which is not his preferred position. He clearly is a team-player in that regard, but also simply fails to produce much, can-do spirit or no.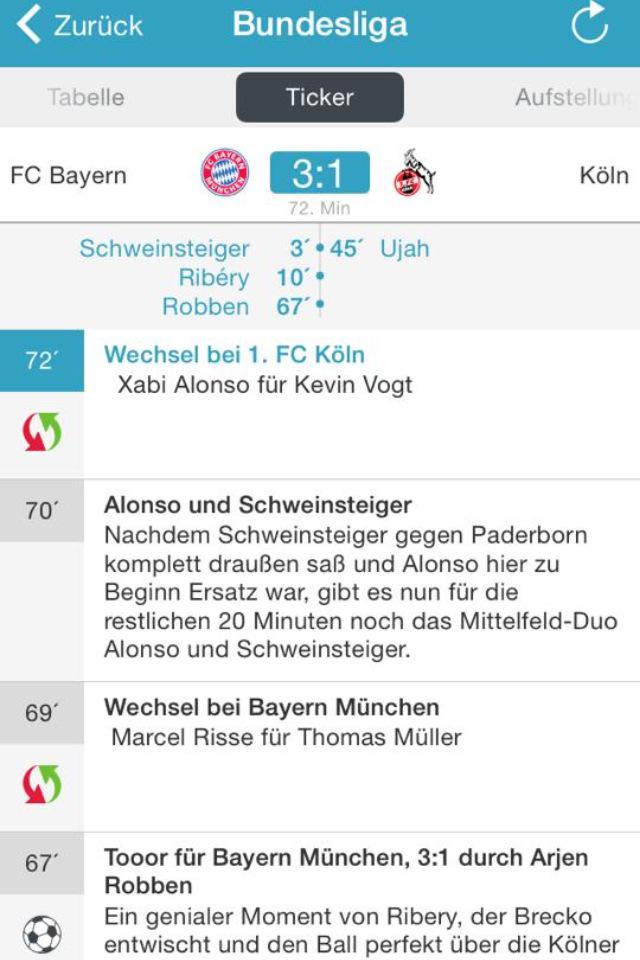 Falling – Too passive in defense . . . too passive in offense . . . bad passes when getting the ball . . . just a bit too malaise-personified.
Where are you RoboVogt, because this Kevin Vogt guy we've seen of late simply isn't cutting it. The Vogt-Lehmann tandem is critical to this team, particularly the way Peter Stöger has them organized, so when either is a bit off, it's entirely too noticeable.
Hope for the Offense
I don't know if it's true, but when I read that Köln produced more shots on goal than they had the prior three matches combined, I didn't really question it.
The EffZeh offense looked as vital as it has in quite some time, including in the two-goal performance in Hamburg that started 2015 so optimistically. It seemed that some combination of the heightened competition, trailing on the scoreboard, and the spotlight of the Friday night match spurred the offense into action.
How to get that out of the team without falling behind and on Saturday or Sunday afternoons will be the current puzzle to figure. But, for now, hope lies with the fact we just saw a spirited effort truly test Manuel Neuer a few times and keep Bayern somewhat at bay for a big stretch of the match.
Stöger has his work cut out for him, but he also has materials.
Match Ball
A round of applause for Slawomir Peszko for bringing a bit of much needed speed and energy to the Köln attack.
The Polish winger spent his Friday night sprinting up and down the pitch, often leading the charge of a surprisingly fresh-looking Köln attack. He delivered a sweet pass to Ujah with the score at 2:1 that set the table for an equalizer that didn't quite come, but certainly could have with either a slightly better shot or a slightly lesser keeper on duty for Bayern.
And despite all the running, Peszko never looked overmatched when in direct battles with any of the all-stars among the opposition. His was a well-rounded and impressive performance.
After getting just one start in the Hinrunde, Peszko has started all but one match since the restart and, with performances like today's, has made a strong case for a semi-permanent place in the left side of the midfield.
Next?
It's a Tuesday night in the Black Forest for a DFB Pokal date with SC Freiburg. It's the eleventh consecutive Pokal match the EffZeh has had to play on the road, dating back to a December 2010 loss at Müngersdorf to MSV Duisburg, who happens to be the club Köln beat in October to provide this shot at the quarterfinals and maybe, finally, another cup match at home.
Though, considering the home form this season, perhaps the club should continue to hope for away draws should they advance this week.
The last meeting between the two ended in a 0:1 home loss for Köln, with the lone goal of the match coming on a penalty for a hand ball by Mergim Mavraj.
The following two tabs change content below.
Randall Hauk is a freelance writer living in the United States while covering German football. He is currently the publisher of Planet Effzeh, an English-language site covering 1. FC Köln. He wrote about the German national team for the Telegraph as part of their World Cup Nation coverage.
Latest posts by Randall Hauk (see all)