As Sebastian Polter races towards goal and calmly slots the ball past RB Leipzig keeper Benjamin Bellot, close to 20,000 fans erupt in a cacophony of emotion at the Stadion An der Alte Försterei. Good has prevailed over evil, and order has been restored, if only temporarily.
It's a Sunday afternoon in September, and the 2. Bundesliga's newest club has made the short two-hour trip to Berlin, sitting pretty atop the table, having gone unbeaten in its first five matches.
Leipzig face an FC Union Berlin side lying firmly in the relegation zone after a winless start to their own 2014-15 campaign. The visitors are welcomed with a cold and hostile reception.
Union's fans have just belted out their club's anthem "Eisern Union," but hush themselves into silence as the two teams enter the pitch. Only one pocket of the ground, the one housing Leipzig's travelling fans, emits any noise.
The Union fans, normally decked out in red, are largely clad in black with some sporting black t-shirts featuring anti-RB Leipzig slogans, while others simply throw the black plastic ponchos distributed at the stadium over their usual match day wear. A large banner behind one of the goals reads, "In Leipzig stirbt die Fußballkultur", or, "In Leipzig, the football culture is dying."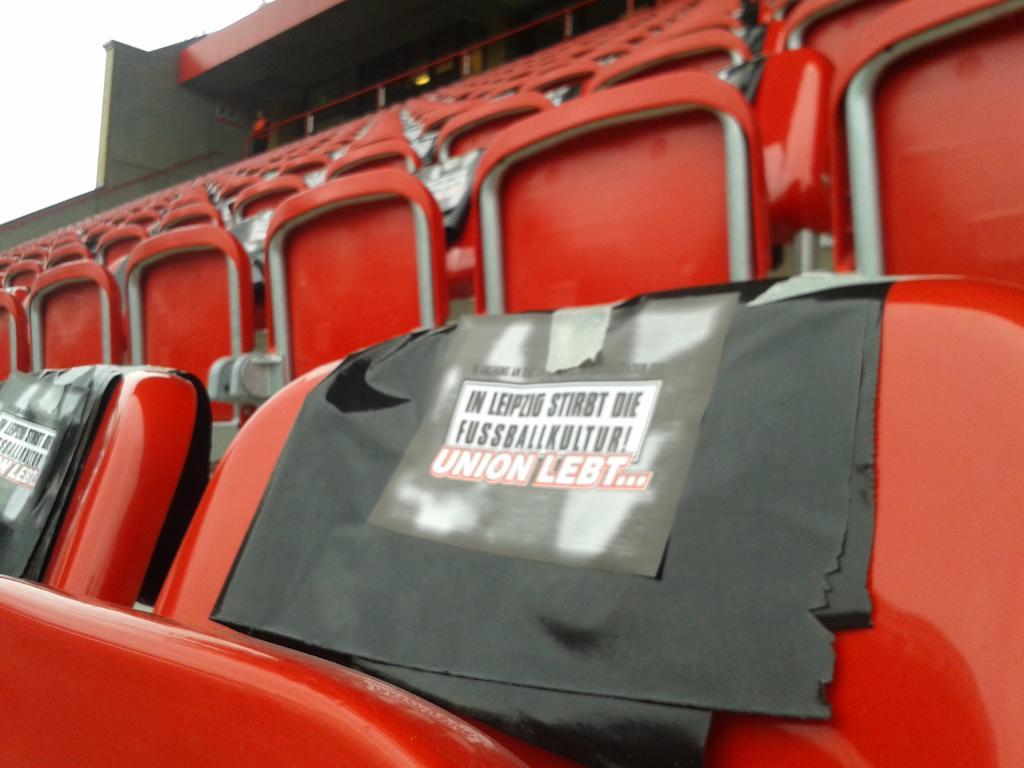 As the whistle blows to signal the start of the match, an eerie silence persists among the Union support. It's set to continue for the next 15 minutes as a loud protest of silence in support of protecting traditions of German football.
This is but the latest protest against RB Leipzig, or RasenBallsport Leipzig as they're officially known. Their original name, Red Bull Leipzig was changed to appease the DFL upon promotion to the 2. Bundesliga. Yet, while the name change allowed the club to slip past rules instilled in tradition and history, it hasn't allowed them to slip past the fear and loathing.
For that is what Leipzig evokes in opposition fans: loathing and fear . . . loathing towards the "plastic club," which was created purely as a marketing tool for Red Bull owner Dietrich Mateschitz, and fear . . . fear that RB Leipzig is drawing a road map that will inspire other corporations to do likewise and, hence, destroy the foundations of German football.
Much has been said about RB Leipzig and the protests the club has endured since their creation in 2009, including here on Bundesliga Fanatic. Yet, Sunday represented one of the largest and most-coordinated (and peaceful) protests yet.
"We wear black to show that if every team was [like RB Leipzig], this is how football would be everywhere," says a Union fan identified only as "Sascha." "They have no tradition, no nothing," Sascha says, "they are a fabricated team."
As the 10-minute mark approaches, Union bomb forward and some escaping murmurs echo throughout the ground. They are quickly met with an order to hush.
"SSSHHHHHHHHHHHHHH!!!!!!"
Banned from using their vocal chords, the whole ground unites in the only way it can while maintaining the protest:  thousands of clenched fists begin to pump the air, urging their team on in silence. It's a sight that pulls at the heart.
As the end of the 15-minute protest draws near, confetti bags are thrown to the Union fans. The countdown begins. A section of supporters raise their middle finger in unison, their target clear. In all fairness, Leipzig's away support are creating a racket, which doesn't sit well with the Union fans.
With 10 seconds remaining, the crowd starts the countdown, the noise builds slowly, and fans start jumping up and down in anticipation. The moment is close; it's time to put an end to the Leipzig show.
And then it hits. 20,000 voices rain down on the pitch, flags and scarves are waved with gusto, confetti flies through the air, and the Union chants begin. It's fan power at its best.
The "Nein zu RB" is not a Union protest, it's widespread across clubs from all levels of German football. This season has already seen VfR Aalen fans refuse to travel to Leipzig for their opening game of the 2014-15 season and large banners erected at the Allianz Arena.
It's a campaign that promotes standing terraces, emotion, passion, financial fair play, and tradition:  values perceived to be lacking at RB Leipzig.
But Leipzig don't care if they're hated. Their fans are ecstatic that top-level football has returned to the city, regardless of the ulterior motives of the owner. They have been starved of relevant football for the past 15 years following the demise of Lokomotive Leipzig and Saschen Leipzig.
When Mateschitz was busy taking ownership of fifth division side SSV Markranstädt in May 2009, Union Berlin were celebrating promotion to the 2. Bundesliga after winning the newly-formed 3. Liga.
While more than 1500 volunteers were helping renovate the Stadion An der Alte Försterei, SSV Markranstädt were erecting Red Bull advertising in the freshly-named Red Bull Arena and, of course, changing their name to RB Leipzig.
Two more-contrasting clubs you could not find. Now, both clubs find themselves in 2. Bundesliga after Leipzig jumped three divisions in five years. It's likely they will gain promotion to the Bundesliga ahead of Union, too.
This, for many fans, is anti-football, or at least contrary to the soul of German football.
"You have Man City and you have Paris Saint Germain, but this is different," Sascha says. "Red Bull have their people controlling the club, from the highest level down."
It is no secret that Leipzig were created first as a marketing avenue to Red Bull, and only second as a football club. They may play attractive football and they may be bringing joy to Leipzig, but they aren't winning too many friends. Most fans are convinced they have no soul.
But fans are flocking to RB Leipzig's matches at the Red Bull Arena (previously Zentralstadion). They had an average crowd of 16,700 in the 3. Liga last season, and have averaged nearly 26,800 in the 45,000-capacity ground so far this season.
Leipzig has promised to change ownership structures by 2015. If they are promoted to the Bundesliga this season, German football will face a huge dilemma.
There are reportedly fewer than 300 members at RB Leipzig, and all have a strong connection to Red Bull's headquarters in Austria. Membership fees sit close to 800 Euros per season, and Leipzig has a tendency to reject applicants without explanation.
Union, founded in 1966, stands as one of the shining lights for fan ownership and are just one of many clubs opposed to Leipzig's ascendancy. Yet their rise is inevitable; it's only a matter of time before the club earns entry to the Bundesliga.
All 2. Bundesliga clubs really can do is stop them on the field and protest from the stands, which is exactly what Union managed in notable form on Sunday.
Undefeated and storming towards an early promotion charge, RB Leipzig were stopped in their tracks momentarily by a determined Union outfit. Roared on by vocal support – for the final 75 minutes, at least – the Berlin side outfought their illustrious opponents, showing the same fight and passion as their fans.
As Sascha observes, "You come to a game here and you get the fever. It's infectious. They [RB Leipzig] will never have that".
When Sebastian Polter slotted his second goal of the game to put Berlin up 2-1, it wasn't a win only for Union; it was a win for German football. A silent protest is one thing, a victory on the field another. Keep on beating RB Leipzig, and they'll never rise to the top.
The following two tabs change content below.
Latest posts by Bundesliga Fanatic Staff (see all)