Without question, the possibility of the Hamburger SV suffering their first-ever drop from the Bundesliga is biggest storyline heading into the Thursday's first leg of the relegation playoff.
That the HSV finished low enough in the table to find themselves in the relegation playoff is maybe large enough an indignity for the last original league member never to have been relegated, but with just 27 points to their credit, they should also be thankful to still have the chance to defend their streak.
Since the 1995 rule change to award three points per victory rather than two, no club has avoided direct relegation with so low a point total, much less returned to the Bundesliga.
Of course, for Hamburg to return to the Bundesliga next season and keep the "in the Bundsliga since" clock at Imtech Arena running, they will need to overcome a strong challenge from a reasonably familiar foe: SpVgg Greuther Fürth.
In addition to the two matches between the clubs last year, when Fürth made their top-flight debut, the relegation foes met in the second round of the DFB Pokal in late September, with the Bundesliga side advancing with a 1:0 home victory.
That tournament match will be long forgotten by the time the relegation playoff gets underway, though. How do the sides match-up heading into their contest? Let's look:
Offense:
Hamburg – 51 goals, 9th in Bundesliga
Fürth – 64 goals, 1st in 2.Bundesliga
Insofar as you can say that any one aspect of the game was the one and only problem, goal-scoring was not the problem for the HSV this year. That said, it can hardly be said the Hamburger offense put fear into opposing defenses on a consistent basis.
Pierre-Michel Lasogga, HSV's leading goal scorer, returned from injury last weekend to score a goal in the season finale in Mainz. It was only Lasogga's seventh appearance since the winter break and the tenth match in which Lasogga managed to score. Remarkably, the HSV have taken just eleven points from matches in which the Hertha Berlin loanee has scored. Even so, Lasogga is the type of offensive threat that absolutely should give HSV fans hope of surviving the tie, as the man can simply score.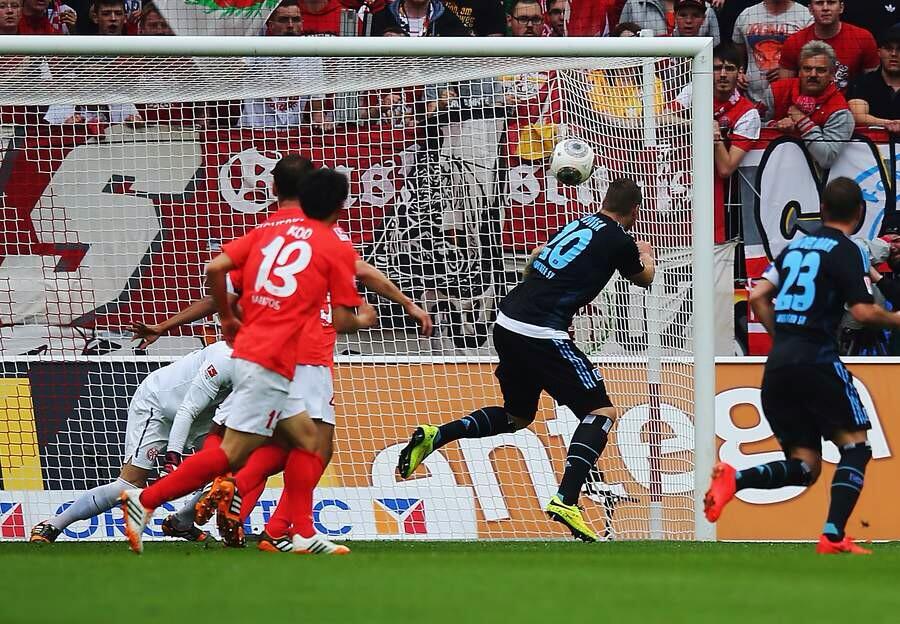 Also providing offensive hope for the Bundesliga side would be first-year wunderkind Hakan Calhanoglu, who returned from his loan to Karlsruher SC after helping them win promotion to the 2.Bundesliga. Calhanoglu's eleven goals also came spread over ten matches, which yielded 17 points. With Lasogga battling injuries throughout the second half of the season and team captain Rafael van der Vaart a mere shadow of his former glories, the 20-year-old Turkish-German emerged as Hamburg's most-reliable offensive weapon.
When Fürth last visited Hamburg for the cup match, the Kleeblätter were still seeking the offensive threat that never emerged in their Bundesliga campaign. Nikola Djurdjic, who joined the club from Nowegian side FK Haugesund in the winter transfer window 0f the 2012-13 season, put together five goals in 15 appearances to emerge as the most-promising candidate to fill the need, but went down with an ACL injury in matchday three, leaving the task to a rotating cast of goal-scorers.
Then, after the winter break, Ilir Azemi caught fire, and nobody has been able to figure a way to put him out.
The Kosovo national player arrives to the relegation playoff having scored in 10 of his last 13 matches, accounting for all but one of his team-high 14 goals on the season. Fürth have lost just once when Azemi scores, which is a problem considering his sudden consistency in doing just that.
Additionally, Djurdjic returned from injury in March and has consistently paired with Azemi in a double-attacker formation which, with the trendiness of the 4-2-3-1, has not been something Hamburg has faced too often this season.
Lasogga and Calhanoglu have both caught the eyes of their respective national-team leadership for good reason, but neither can boast the sheer productiveness of Azemi nor the experience of Djurdjic, who, at 28-years-old, is the elder statesman of this quartet. There is naturally a gap in class between the leagues, but the red-hot form of Azemi tips the scales for now.
Slight advantage: SpVgg Greuther Fürth
Defense:
Hamburg – 75 goals allowed, worst in Bundesliga
Fürth – 38 goals allowed, 5th best in 2.Bundesliga
The defensive problems in Hamburg have been well documented. Opinions vary as to whether the primary culprit is poor communication among the unit, problems with back-line spacing, lack of close marking in crucial situations, risk-taking gone wrong by the holding midfielders, poor passing turning into quick counterattacks, or simply the wrong personnel.
But everyone agrees that poor defending is the number one reason Hamburg find themselves teetering on the precipice at the edge of the drop zone and that the issue is multi-faceted. Veterans Rene Adler, Heiko Westermann, Petr Jiracek, Tomas Rincon, and Milan Badelj have been inconsistent, sometimes to disastrous results. As recently as last Saturday in Mainz in what was nearly a must-win situation, a poor decision by Westermann in handling a cross in front of Adler led directly to Elkin Soto arriving unimpeded to the ball with a point-blank chance which was converted into a 1:0 lead just seven minutes into the match. If the threat of dropping into a direct-relegation spot can't inspire the defense to rise to their top form, what will?
Newcomer Johan Djourou was brought in via loan from Arsenal to help solidify the middle of the defensive back line, but the Swiss national player has instead been one of the more-notable liabilities. Djourou has not played since returning from a hip injury. Replacement Michael Mancienne has done little to show he would be an upgrade.
The Fürth defense is does not sport the flashy names available to the HSV, but they have developed into a confident unit which does not generally contribute to opposition success by egregious errors on their own part.
Megrim Mavraj is a confident boss of the defensive unit, which was bolstered in the winter window by the arrival of Benedikt Röcker from VfB Stuttgart, who quickly became Mavraj's regular partner in the center of the back line and is a menace in the air, contributing both to Fürth's total of 17 goals from headed balls and a stout presence for clearing crosses into the box.
Daniel Brosinski has also developed as a solid two-way right back for Fürth, scoring three goals, assisting on eight, and generally where he needs to be when the ball comes down his flank.
The last man standing, however, has the chance to be the decision-maker in the overall tie. Wolfgang Hesl stole the starting keeper job from Max Grün last season before the winter break and never looked back, forcing Grün to seek employment elsewhere (VfL Wolfsburg). Hesl is now the team captain, making official what seemed evident at the end of last season: he is a natural leader among his teammates. Hesl was obviously not good enough to keep his side from suffering the drop last year, but in the second league, he has become an ideal end station for those who manage to negotiate through a solid Fürth defense.
And that's what Fürth's defense is, solid. They aren't great, but when comparing them to the horror show that has been HSV's defense this season, they're more than ample.
Advantage: SpVgg Greuther Fürth
Coaching:
It's difficult to see, from a pure sporting aspect, why Mirko Slomka was even available to be hired as the third HSV coach of the current campaign. It seems evident from results in Hannover that it was not necessarily his influence that was causing the side to struggle. Likewise, what rational person would put any piece of the blame for HSV's situation, even should they lose to Fürth, at his feet?
Slomka is a quality coach who proved his abilities in Hannover by taking on a sub-par side and achieving the first European placement in club history. Despite that, he was eventually shown the door and may now ride with Hamburg to their first-ever relegation. Even if that is the end result, I think HSV would do well to try to keep Slomka in place for the rebuild and eventual return to the top flight. He is not working with a full tool kit, roster-wise.
Frank Kramer is having quite a good time in his first full-time gig with a professional side. having led Fürth to a huge opportunity this weekend.
Though, it should be noted, second place was controlled by Fürth for a long time before a surprise loss at home to 1860 München allowed SC Paderborn to pass them, just five days after some questionable calls allowed Fürth to steal a point from a visit to Paderborn in a match largely controlled by the home side.
And that is the thing. Fürth, at times, looked like they had the goods to be the best of the second league, but sometimes it wasn't all clicking. The 1860 team that beat them had lost 4:2 at Dresden in their prior road match. With so much riding on winning at home against a team recently dealing with a coaching change and clearly with some struggles of their own, Fürth did not look like a team ready to seize the moment in its clutches, rather one that looked to play it safe and maintain the course.
The course was never meant to go through the playoff, and that's what you get for being "safe."
Kramer seems an affable, pragmatic sort, but he's also a guy in his first year who sometimes appears to err on the side of caution. If he loosens the reins a bit, despite the largeness of the moment and immense stature of the opponent, he might come out of this as a Bundesliga manager.
Slomka, on the other hand, is already Bundesliga manager will not struggle with how to approach the match. He's a veteran who has seen plenty of big moments. If it comes down to coaching decisions, I'm not sure Kramer has yet shown he's quite ready to play in the big leagues.
Slomka has.
Advantage: Hamburger SV
Set Pieces
Did you see Calhanoglu's free kick against Borussia Dortmund from approximately the St. Pauli district?
Watch the Dortmund players watch with looks of disbelief as to the cheek the kid had to even attempt it. Watch keeper Roman Weidenfeller flail at it with no real chance of stopping it. Watch Jurgen Klopp just smile that smile you smile when you are thinking, "What can anyone do about that?" Watch Slomka celebrate like he won tickets to a Boss Hoss concert, clearly figuring "I can win with this guy!"
There is a guy in the second league who can at least equal the free-kick abilities of Calhanoglu. Or, rather, there was, but SC Paderborn's Alban Meha is technically now in the Bundesliga.
Fürth's 17 headed goals would suggest that they have an advantage on corners, and they do, though not all of those headed goals came from corners. Even so, the aforementioned Azemi will cause problems in that segment of the game. The aforementioned Röcker is solid in defending them.
Still, give me the guy who can turn the match by punishing you for aggressive defending anywhere in your half of the pitch.
Advantage: Hamburger SV
Intangibles
This one is tricky.
The immensity of the situation would seem like it would necessarily favor the Bundesliga side. They are, after all, quite used to playing in big matches, whereas the second-league side is approaching with an eye to taking advantage of an opportunity.
Considering the history at stake here, though, it could also be said that the weight of all that expectation could be part of the burden that has caused HSV to fall this low and that the endgame will be the final collapse in the crucial moment. Not to mention the giant serving of humble pie they know they will be offered by crosstown rival FC St. Pauli should the Bundesliga "dinos" finally find their way down to the less-noble second league.
SpVgg Greuther Fürth president Helmut Hack said of the playoff that his side has "nothing to lose." This is, of course, not remotely true, but approaching the battle from this viewpoint, especially as underdogs, would be intended to let the players be relaxed in taking on the task.
That is, of course, easier said than done.
There will not be a single player on the pitch unaware of the history ready to unfold should the HSV drop to the second league. Fürth does have the benefit of having been in the Bundesliga a year ago, so they won't be complete neophytes to the level of competition, but none of the matches in their one-season run at the top will compare to the two matches over four days against Hamburg.
One issue that does seem to be effecting only Hamburg is the distraction of having your roster suddenly look like a shopping list for clubs looking to poach your talent in anticipation of your failure to stay up or just take advantage of players hoping to get to a healthier situation. Lasogga had said earlier in the season he'd like to stay at HSV even after his loan from Hertha BSC expires, but other suitors are already emerging, including Atletico Madrid, who will come armed with the promise of Champions League play, title contention, and a pile of money from selling Diego Costa to Chelsea.
Worse, word is that Calhanoglu wants out, regardless of which league HSV finds itself in for next season.
Even before crashing onto the rocks, the ship appears ready to break apart. How invested are some of the players who are already looking for a softer landing spot? Well, how invested have they appeared the last several weeks?
It is a last chance for HSV to avoid a disastrous season, but the chance to do that has also been before them for well over a month now. Despite that, they arrive to the playoff on a five-match losing streak.
Fürth is paying for late stumbles that saw them drop from second place, but HSV is paying for a season-long malaise, which really indicates that the team simply is a wreck.
Without question, though, the atmosphere at Imtech Arena in support of the home side has the potential to be special for the HSV. Fürth fans will certainly be in full voice when the show travels to Trolli Arena, but even in top form, the atmosphere simply cannot compete with that in Hamburg.
Slight Advantage: SpVgg Greuther Fürth
It's difficult to be sure you can really compare sides and their results while competing in different leagues. Safe to assume the HSV would have been likely to finish at or near the top of the 2.Bundesliga were that where they were competing this season. Likewise, even with a historically soft bottom half of the table in this year's Bundesliga, this Fürth could just as easily be one of the worst sides in the Bundesliga, as they were the season prior.
But a season filled with successes or failures has a way of effecting talent levels for 90 minutes that make good players look ordinary and ordinary players look inspired. The tradition alone behind HSV would be enough to convince you there is no chance for Greuther Fürth to pull the upset. Compare the rosters and name-recognition strongly favors the Bundesliga side. Even if you've watched Hamburg SV struggle time and again this season, your instinct is that they simply cannot lose this tie.
Yet, for three hours, 45 minutes at a time, it's easy enough to see that die Kleeblätter have a legitimate chance at springing what would be considered an historic upset.
I believe that's exactly what will happen.
The following two tabs change content below.
Randall Hauk is a freelance writer living in the United States while covering German football. He is currently the publisher of Planet Effzeh, an English-language site covering 1. FC Köln. He wrote about the German national team for the Telegraph as part of their World Cup Nation coverage.
Latest posts by Randall Hauk (see all)